Check out Potshot Boxing's Fight of the Month for August 2014!!
Get your official Mayweather vs. Maidana 2 "Mayhem" T-Shirts here at Potshot Boxing (PSB)
Danny "Swift" Garcia vs. "Lightning" Rod Salka
This past month produced a lot of great boxing fireworks.  From rising star Gennady Golovkin to the always impressive Sergey Kovalev, boxing for August of 2014 gave the boxing world all of the great action it could handle.
There can only be one fight featured on Potshot Boxing for Fight of the Month, however, and the fight that Potshot Boxing chose for the Fight of the Month – August 2014 is Danny Garcia vs. "Lightning" Rod Salka.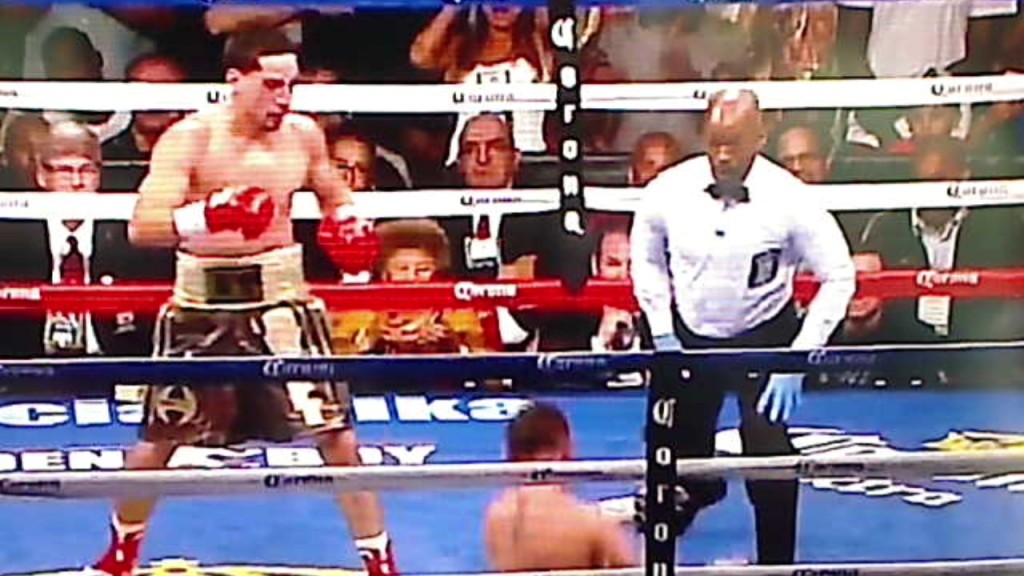 This fight was more of a redemption fight for Garcia given that a lot of the boxing world thought Garcia should have lost his last fight to Mauricio Herrera back in March of this year.  Garcia would squeak by with the 12 round majority decision victory over Herrera which raised a lot of eyebrows.
Some may even have thought that Garcia got some home cooking against Herrera given that the fight was in Puerto Rico where Garcia's family  is originally from.  Now onto the Fight of the Month!!
Get your official Mayweather vs. Maidana 2 "Mayhem" T-Shirts here at Potshot Boxing (PSB)
Garcia was super criticized by the boxing world for taking a fight against such an overmatched opponent for his next fight in "Lightning" Rod Salka.  Many boxing critics and the boxing world felt that Garcia should have chosen and fought the mandatory challenger for his next fight instead of the unknown Salka, but nevertheless, the fight with Rod Salka was made and the rest is boxing history.
Heading into the Barclays Center that night, there was a lot of pressure on Garcia to win a look good doing it because of the caliber of opponent his chose to dance with.  Salka on the other hand told everyone he could tell that he was not there to collect a paycheck and that he was going to shock the world on August 9, 2014.
So what do we know about Salka?  Well, from what I saw, he had good footwork and a crafty defense style that could have very well upset the apple cart given that Garcia does have a little trouble with fighters that can box and give him different angles to shoot at.
Boy was I wrong!!  Not only did Danny Garcia answered the boxing world in emphatic fashion on that explosive boxing night of August 9, 2014, but Garcia may have scored 2014's best knockout of the year in the process.
Get your official Mayweather vs. Maidana 2 "Mayhem" T-Shirts here at Potshot Boxing (PSB)
Garcia started off the fight by using his jab to touch Salka to the body from time to time in that 1st round. Garcia looked so much bigger than Salka in this fight and it may have been because Salka was moving up from lightweight to fight Garcia.
Rod Salka used his footwork early on in this fight to move around and try to give Garcia some angles to shoot at like I talked about earlier. As the 1st round continued, Garcia would press forward and cut off the ring and as a result landed some good body punches and jabs on Salka in the 1st round.
In the 2nd round, Garcia continued to move forward and Salka's body.  As the round went on, Garcia would catch Salka with one of the most vicious right hooks of the year as the right hook left Salka looking around the Barclays Center crowd in shock. Garcia would follow up with more combination punching that would send Salka to the canvas.
Salka would get up at the count of 8, but Garcia would keep the pressure on as he would continue to land heavy left and right hooks to Salka's head and body that would send Salka down again.
Get your official Mayweather vs. Maidana 2 "Mayhem" T-Shirts here at Potshot Boxing (PSB)
Salka would this time get up at the count of 9 and try to fight fire with fire with Garcia, but would get laid to rest as Garcia landed probably the most vicious left hook of the year on Salka that would send Salka to the canvas for good.
The fight was stopped immediately and Garcia was awarded the 2nd round KO victory.
Conclusion
Garcia had a lot of critics to answer going into the fight and he answered them all with a definite 2014 knockout of the year kind of knockout of Rod Salka.  I guess the real question is why did Garcia take this fight against Salka?
Maybe Garcia needed a little break after dealing with so many world class fighters in the past 2 years?  I don't know, but one thing is for sure and that is whoever fights Garcia, be it 140 or 147, those fighters better watch out because Garcia really can end the night with one punch.
Get your official Mayweather vs. Maidana 2 "Mayhem" T-Shirts here at Potshot Boxing (PSB)
For more boxing news and articles continue to visit www.potshotboxing.com. If you like this post and other's from Potshot Boxing, feel free to spread the word to your favorite social media channels with your friends and family!! Potshot Boxing – "Boxing news and article bites for all walks of life."