Congratulations to Danny Garcia for being chosen for Potshot Boxing's (PSB) 2014 Knockout of the Year!
There were a lot of great knockouts in the boxing year 2014, but none of them were more brutal and exhilarating then Danny "Swift" Garcia's knock out of relatively unknown "Lightning" Rod Salka back in August of 2014.
Heading into the fight with Salka, Garcia was criticized by a lot of the boxing world for choosing Rod Salka as an opponent because Salka was not ranked by any of the boxing sanctioning bodies at 140.  With that in mind, Garcia knew that he needed to win this fight, and win it in impressive fashion to silence the boxing critics.
iPage Easy-To-Use Site Builder. Try it now for only $3.25 a month!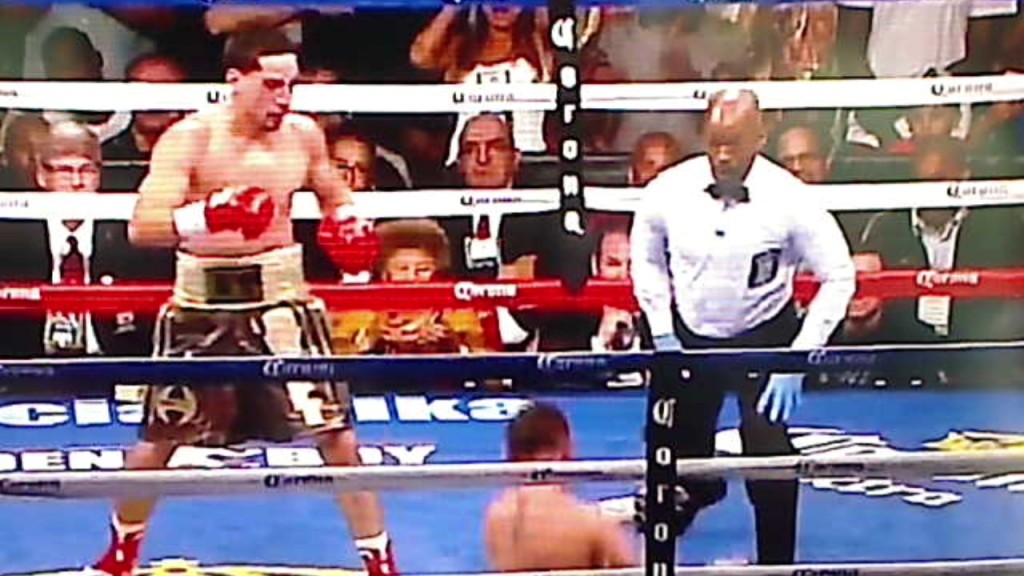 Rod Salka was heading into the Barclays Center on August 9, 2014 looking to prove to the boxing world that he was not just a routine opponent, and that he could possibly shock the boxing world by using his good footwork and defense in hopes of out boxing Garcia en route to an upset of the year victory over Garcia.
Boy was Salka ever wrong!  In the 1st round, Garcia started off by using his jab to touch Salka to the body.  Salka started by using his footwork and moving around the ring as he tried to give Garcia angles to punch at.
The 2nd round is where the fireworks happened.  In the 2nd round, Garcia continued to shoot to Salka's body.  As the round went on, Garcia's good body work set up one of the most vicious right hooks of the year as Garcia caught Salka with a right hook that was so vicious that it  left Salka looking around the Barclays Center crowd in shock. Garcia would follow up the right hook with more combinations that sent Salka to the canvas.
Learn how to make an extra income by taking surveys. Click here!
Salka would get up off the canvas after the vicious onslaught by Garcia, but only to get sent back to the canvas by some hard left and right hooks that Garcia landed on him.  Salka would get up off of the canvas again, and showed a champion's heart by trying to stand in front of Garcia and throw power punches with him.
In the end, Salka's big heart would prove to spell disaster as Garcia landed one of the most vicious left hooks of the year on Salka that would send Salka to the canvas for good.  A towel was thrown into the ring and the fight was stopped immediately by the referee. Garcia was awarded the 2nd round KO victory.
Conclusion
Danny Garcia answered the boxing world in emphatic fashion with that explosive knockout of Rod Salka.  The knockout was so bad that Salka looked like he was in a casket, and it did not help that a towel was thrown into the ring that almost landed on Salka's frozen body.
In the 2nd round of that fight, Garcia threw 2 of the best hooks of the year in 2014.  One left Salka looking, and the other sent him to the canvas casket style.
So what's next for Danny Garcia in 2015?  I don't know, but whoever fights Garcia in 2015 and beyond better watch out because Garcia can end the night with one punch.
Title loans up to $25,000. Apply now.
For more boxing news and articles continue to visit www.potshotboxing.com. If you like this post and other's from Potshot Boxing, feel free to spread the word to your favorite social media channels with your friends and family!! Potshot Boxing – "Boxing news and article bites for all walks of life."