The Staples Center in Los Angeles, California witnessed a great fight on Saturday, January 23, 2016 when Danny Garcia and Robert Guerrero squared off for the vacant WBC welterweight title that was left behind by Floyd 'Money' Mayweather, Jr. due to his retirement.  This was Danny Garcia's second fight at welterweight and he did not disappoint his Garcia faithful.
Check out PSB's new book, "Best Fights Of 2015 (According to Potshot Boxing – PSB)!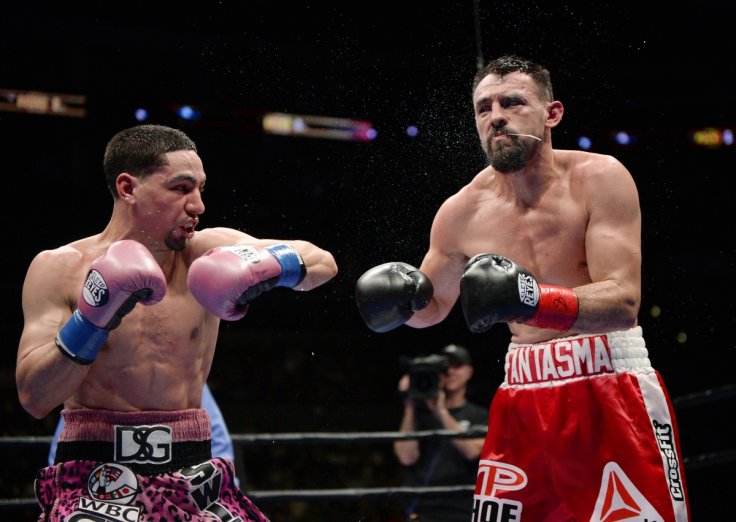 Now, Garcia got off to a shaky start as he allowed Robert Guerrero to back him up against the ropes and connect on some hard shots.  Rounds 1 and 2 were easily taken by Guerrero and for a moment, I am sure the boxing world was thinking, "Oh No!  Another up and coming superstar is going to get taken out by a seasoned veteran."
Guerrero did a great job early on in this fight by using his jab to back up Garcia, but Garcia wisely righted the ship by staying off the ropes, keeping the fight in the middle of the ring, and taking control of the fight from round 5 on with accurate counterpunching that rocked Guerrero to the core.
Guerrero made one last stand in the 12th round, but by then, Garcia had put too many middle rounds in the bank for Guerrero to come back from.  These 2 fighters made an epic stand in the final round by trading vicious shots down the stretch, but in the end, it was Danny 'Swift' Garcia who was awarded the 12th round unanimous decision victory to capture the vacant WBC welterweight title.
Conclusion
What a great fight!  Robert Guerrero's boxing experience gave Danny Garcia some trouble early, but you have to give Garcia and his corner credit for making the proper adjustments to deal with Guerrero's aggression.  If Guerrero could have kept his jab going in the fight, who knows what would have happened.
Nevertheless, it was Danny Garcia who kept the fight in the middle of the ring and forced Guerrero to pack his jab in.  So what's next for Danny Garcia?  Well there are a plethora of fighters in the welterweight division that will be chomping at the bit to fight Garcia for that WBC welterweight title.
The question will be whether or not Danny Garcia can continue to answer the boxing critics by defeating more worthy boxing opponents.  As for Robert Guerrero, I am not sure where he will go from here.  I just feel that Guerrero has been in too many boxing wars to remain relevant in boxing at the moment.
E-File your taxes for FREE at E-file.com! Start Now!
For more boxing news and articles continue to visit www.potshotboxing.com. If you like this post and other's from Potshot Boxing, feel free to subscribe to this boxing website by entering your email address into the floating email form provided on this post! Potshot Boxing – "Boxing news and article bites for all walks of life."