Will Geale keep his IBF middleweight strap? Check out PSB's Prediction for this middleweight bout between Daniel Geale and Darren Barker.
HBO Boxing's After Dark will showcase this IBF middleweight title fight between two one-loss evenly matched fighters as Australian Daniel "Real Deal" Geale, 29-1 (15 KO's) will try and capture the Atlantic City crowd and finally get some approved recognition by the boxing critics as a legit middleweight champion when he puts his IBF middleweight title on line against Englishmen Darren "Dazzling" Barker, 25-1 (16 KO's.)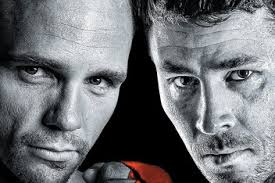 Photo Credit: thaboxingvoice.com
This is going to be a really good fight as Geale will be facing his toughest opponent to date in Barker, who has a great chance to take the IBF title from the Real Deal given that Barker has a great jab and knows how to break down a fighters with tactical shots to the head and body.  Remember, Barker's only loss was to the middleweight king Sergio Martinez and he did great against Martinez, but he fell to the pressure of the Martinez in the late rounds and was stopped in the eleventh.
I expect both of these fighters to use their great boxing skills as Barker will dazzle with his jab while trying to get inside; and the champion will simply try and counterpunch Barker as he tries to get inside in hopes of showing the judges and the boxing world that he is indeed the "Real Deal."
This will be a very long and tactical fight as I feel this fight will actually go the distance.  In the end, Geale's good counterpunching should win the night and I expect Geale to finally get his recognition as a true middleweight champion.
PSB's Prediction: Geale by Unanimous Decision
For more boxing news and articles continue to visit www.potshotboxing.com. If you like this post and other's from Potshot Boxing, feel free to spread the word to your favorite social media channels with your friends and family!! Potshot Boxing – "Boxing news and article bites for all walks of life."