Here is Potshot Boxing's (PSB) Prediction for the upcoming middleweight fight between Curtis Stevens and Hassan N'Dam!
Here is a realistic way to make money online! Click here!
On October 1, 2014, Curtis "Showtime" Stevens and Hassan N'Dam should put on great performance for the Santa Monica, California crowd at the Barker Hangar given their 2 boxing styles.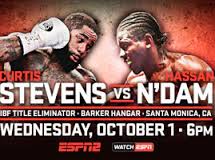 Photo Credit: boxingchannel.tv
Stevens loves to move forward behind his left jab in hopes of landing something big on his opponents; while N'Dam is a good boxer puncher who also likes to box and move around in hopes of landing some good counterpunches on his opponents.
This should be a very good fight.  I expect for Stevens to come out aggressively to try and test N'Dam's suspect chin early in this fight.  I expect N'Dam, on the other hand, to come out and try to box the aggressive Stevens by using his jab and try to throw some meaningful shots to Stevens' body in hopes of zapping some of that tremendous power that Stevens possesses.
N'Dam will have a pretty good chance of scoring a lot of body shots in this fight because when Stevens is on the attack he tends to keep his gloves a little too high which opens him up for vicious body shots.  Gennady "GGG" Golovkin had a field day on Stevens' ribs when Stevens fought Gennady Golovkin.
N'Dam has some quick hands and can really move around the ring well, but the one bad thing he has going for him is a suspect chin.  If Stevens can land his signature left hook on N'Dam, it might spell good night for N'Dam.
Stevens' defense is not that great.  He can be had in the defense department because he can be a bit reckless at times trying to land that left hook to send his opponents into "never never land."  I like both of these fighters because you know when these 2 guys step into the ring, the boxing world will always get their money's worth.
In the end, Stevens' is an aggressive fighter and N'Dam is a good boxer-puncher so this will make for a very interesting fight.  Since his loss to Gennady Golovkin in November of 2014, Stevens have steamrolled his last 2 opponents en route to this fight with N'Dam.  After suffering the first loss of his career to "Kid Chocolate" Peter Quillin back in October of 2012, N'Dam have also had his way with his last 3 opponents.
Will N'Dam's speed and elusiveness win the night, or will Stevens keep on steamrolling in hopes of getting back to a championship fight in the middleweight division?  This is such a tough fight to call because of Stevens' inept defense, but in this fight, I am going to choose N'Dam chin failing him over Stevens' heavy bag defense tendencies.
Prediction: Curtis "Showtime" Stevens by Knockout
Refer others and make money! Find out how!
For more boxing news and articles continue to visit www.potshotboxing.com. If you like this post and other's from Potshot Boxing, feel free to spread the word to your favorite social media channels with your friends and family!! Potshot Boxing – "Boxing news and article bites for all walks of life."