Congratulations to Cornelius Bundrage for being chosen as Potshot Boxing's (PSB) 2014 Comeback Fighter of the Year!
The boxing year of 2013 was not so kind to Cornelius "K9" Bundrage as previous years were to him.  In August of 2010, Bundrage would put the boxing world on notice with an impressive 5th round technical knockout victory of the elusive Cory "The Next Generation" Spinks en route to capturing Spinks' IBF junior middleweight title.
Bundrage would successfully defend the IBF junior middleweight title in 2011 and 2012, which included another impressive 7th round knockout victory of Cory Spinks in their rematch in June of 2012.
Get the Undisputed Truth by Mike Tyson here at PSB. Own it today!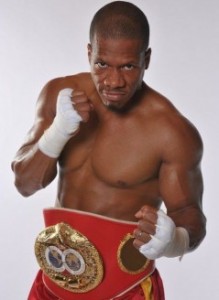 After the rematch fight with Spinks, Bundrage seemed to be settling into his role as the IBF junior middleweight champion until he faced off against Ishe "Sugar Shay" Smith in February of 2013.
In his fight with Smith, Bundrage would find himself in a gully style fight with Smith as this IBF junior middleweight championship fight was filled with some good back and forth action from both fighters.  In the end, however, Ishe Smith would get the 12 round majority decision victory over Bundrage, thus, taking away Bundrage's IBF junior middleweight crown.
The boxing year 2013 may not have been so great to Bundrage, but 2014 would prove to be a much better year for the "K9" with the bite.  After losing the IBF junior middleweight title to Ishe Smith, Bundrage would take almost a year off from boxing.  In January of 2014, Bundrage would began his boxing comeback by going back to the Fantasy Springs Casino in Indio, California where he last had some boxing success when he knocked out Spinks in their rematch.
His opponent would be Joey "Twinkle Fingers" Hernandez and the fight was an IBF junior middleweight title eliminator fight.
Bundrage would dominant Hernandez from start to finish in that fight en route to getting the 12 round unanimous decision victory.  With the win, Bundrage would get another crack at the IBF junior middleweight title, but not against the fighter he lost it to because Ishe Smith would lose the IBF junior middleweight title in only his 1st title defense to "King" Carlos Molina back in September of 2013.
So now the stage was set for Bundrage to head into the Oasis Hotel Complex in Cancun, Quintana Roo, Mexico on October 11, 2014 to regain the IBF junior middleweight crown and get back into the junior middleweight mix.  Carlos Molina, however, was heading into the fight with hopes of defending the IBF junior middleweight crown and continuing his quest to be one of the best junior middleweights in the division.
Instantly stream from the comfort of your own home! Click Here to find out how!
Well, the "K9" fully regained his bite back as he started out the fight by moving forward and scoring a knockdown on Molina.  Bundrage would continue to use good effective pressure throughout the fight and simply overwhelmed Molina with power punching and smothering shots.  Bundrage did get a point taken away from him in the 8th round of this fight for rabbit punching, but it really did not matter because up to that point, Bundrage was in full control of the fight.
In round 10, Bundrage would score another knockdown on Molina and closed the fight in impressive fashion.  The fight would go to the judges' scorecards.  The scores read 117-106, 116-109, and 115-110 all for the winner and New IBF junior middleweight champion Cornelius "K9" Bundrage.
Conclusion
Cornelius "K9" Bundrage is one of those fighters that will give any fighter at 154 pounds trouble because of his rough and aggressive boxing style.  He likes to outwork his opponents and impose his will on them with effective pressure and to this point in his career, I feel that he is doing a great job with keeping the 154 pound division on notice.
Bundrage shook off the disappointments in 2013 and pressed forward.  His perseverance circled him back to the IBF junior middleweight title.  So what's next for the "K9" with the bite?  There are a lot of good fighters at 154 pounds so Bundrage is going to have to keep that bite if he wants to hold on to the IBF junior middleweight title in 2015.
Check out this cool DVD "Facing Ali!"  Own your copy today! Click here… 
For more boxing news and articles continue to visit www.potshotboxing.com. If you like this post and other's from Potshot Boxing, feel free to spread the word to your favorite social media channels with your friends and family!! Potshot Boxing – "Boxing news and article bites for all walks of life."