Wow!!  I predicted fireworks for the Victor Ortiz/Luis Collazo fight, but I did not know that the fight was going to end like it did tonight.  Collazo knocks out Ortiz with 1 second left to go in the 2nd round.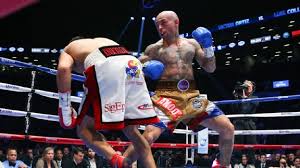 Photo Credit: espn.go.com
Both fighters started off in the 1st round looking to target each other's bodies as Ortiz and Collazo landed vicious shots to the body.  Collazo looked the most comfortable of the two fighters in the ring as it seemed like Ortiz was trying to land that one big shot on Collazo to end the night early, but Ortiz's anxiousness was the key to his demise in this fight.
The 2nd round was similar to the 1st round as Ortiz continued to move forward and throw body shots in hopes of setting up the big shot to hurt Collazo.  Collazo was relaxed and throwing some good body shots of his own in the 2nd round.
As the 2nd round was coming to a close, Ortiz threw a big left hook that missed and Collazo countered with a devastating right hook that clearly knocked out Ortiz as Ortiz was out on his feet. The referee counted out Ortiz as Ortiz was unable to beat the count.
Collazo was awarded the shocking 2nd round knockout victory.
Conclusion
Well Collazo has given great fighters trouble in the past so look out boxing world because who knows what lies ahead for Collazo in the future.  After the fight, Collazo stated that he wants Mayweather to leave Las Vegas and come to Brooklyn and fight him.
Really not sure who Collazo will  fight in the future, but this stunning knockout of Ortiz will definitely have boxing fans on the edge of their seats waiting to see who mixes with Collazo next.
For more boxing news and articles continue to visit www.potshotboxing.com. If you like this post and other's from Potshot Boxing, feel free to spread the word to your favorite social media channels with your friends and family!! Potshot Boxing – "Boxing news and article bites for all walks of life."