Wembley Stadium in London England will be rocking on May 31, 2014 as this venue will not only hold one of the most anticipated fights of 2014, but this rematch between "The Cobra" Carl Froch and George "Saint" Groves will be the biggest boxing match that Wembley Stadium has ever held!!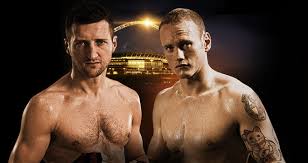 www1.skysports.com
The first time these two met for Froch's IBF and WBA super middleweight titles, Groves took the fight to Froch as he scored a 1st round knockdown on Froch as most of the boxing world felt that Groves controlled the fight from start to finish before the fight getting stopped in controversial fashion in the 9th round.
Before the stoppage, Groves was ahead on all of the official scorecards in that first fight, only to have had his dreams and undefeated professional boxing record dashed by the referee. A rematch was the only direction Froch had to go in given how that first fight ended as Groves simply deserve a second shot of what many believe should be his IBF and WBA super middleweight titles in the first place.
Now on to the prediction…
I feel that Froch took Groves' best shot in the first fight, and even though he was losing on all of the judges' scorecards before the controversial stoppage, Froch displayed a championship heart as he kept going after Groves in the first fight despite getting hit with some bombs from Groves. I expect for Froch to simply be better prepared for this upcoming rematch by using his aggressive boxing style to go after Groves and pressure Groves with combinations and power punches for as long as this rematch lasts.
I expect for Groves to try and institute the same boxing game plan that he put to work against Froch in the first fight by simply using his great power to counterpunch Froch and offset the aggressive boxing style of Froch which should make for a great rematch between these two British warriors. This is going to be a crowd pleasing fight!!
Both of these fighters have good power and not too much boxing will be done by these two fighters so I expect for the Wembley Stadium crowd to witness a vicious knockout by one of these fighters. But which fighter gets knocked out?
Prediction: Carl Froch by Knockout