The up and coming new Vegas arena known as the T-Mobile Arena showcased a great HBO Boxing PPV on May 7, 2016 as Saul 'Canelo' Alvarez took one more leap towards a possible showdown with "The" middleweight champion of the world Gennady 'GGG' Golovkin.
Canelo vs. Khan will be remembered by a lot of boxing fans as an example of how one punch in a fight can erase all the good work another fighter may have produced. The question leading up to this fight between Canelo and Khan was whether or not Amir 'King' Khan could circle his way around Canelo enough to win the WBC middleweight title.
Check out this cool Canelo vs. Khan T-Shirt!  Not sold in stores. Order yours here!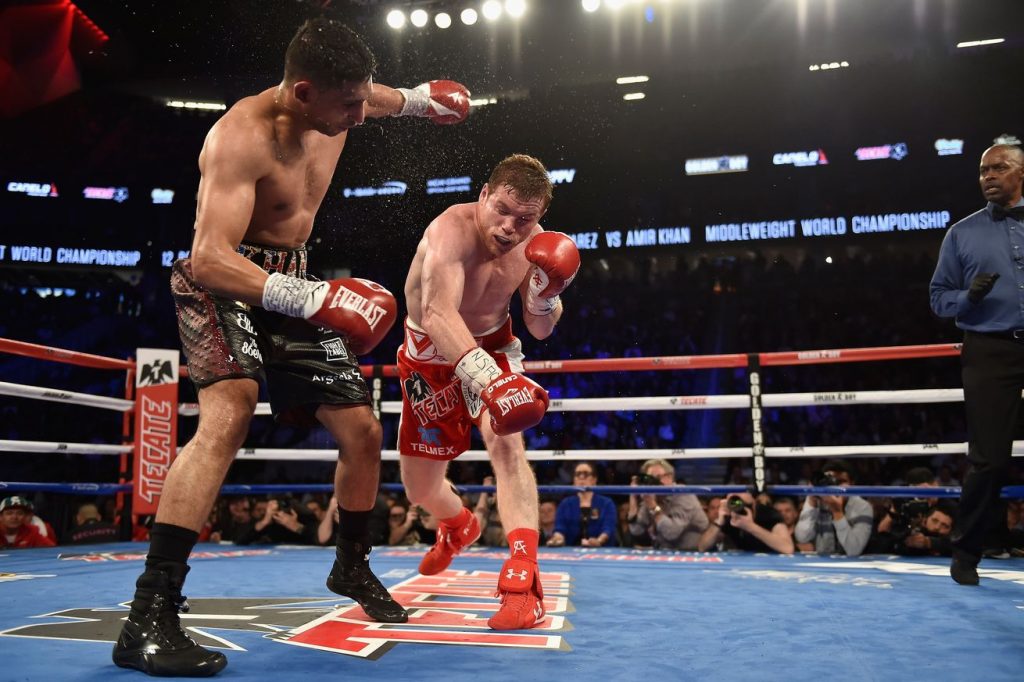 Well, Khan looked good for a moment as his speed and good footwork gave Canelo a lot of trouble for the first 3 rounds of the fight. Canelo was so frustrated in the 2nd round that he picked Khan up in the air as Referee Kenny Bayless had to break the 2 fighters up.
Canelo would start to make progress in round 4 as he slowly but surely started to land brutal power shots to Khan's body. Khan would smile as if to say "you didn't hurt me," but the boxing world knew that Canelo's power was evident and started to take a huge effect on Khan as the fight moved on.
In round 5, Canelo stepped up the pace a little more as he continued to effectively cut the ring off and land power shots to Khan's ribcage. Khan tried to use his speed to offset the offense of Canelo, but Canelo prove to be too skilled for Khan's speed.
As round 5 continued, not only did Canelo start to control the distance in the fight, but he also started to win the counterpunching war as he started to time Khan with vicious hooks and straight shots to Khan's head and body. Khan bravely fought back, but Canelo was closing the distance so fast that you could just feel that something big was about to happen.
"That something big" happened in the 6th round as Khan got back to what he started in the 1st round which was trying to box Canelo. Khan was moving well in the 6th, but made one brutal mistake that cost him the fight; he dropped his hands at the wrong time.
Canelo okey doked Khan by fainting to his body with the left which caused him to drop his hands to protect his body. When Khan dropped his hands to protect his body, Canelo came over the top with the most vicious overhand right of the year the knocked Khan out cold!
Referee Kenny Bayless immediately stopped the fight, and Saul 'Canelo' Alvarez was awarded the devastating 6th round KO victory, thus, successfully making the 1st defense of his WBC middleweight title.
Throwdown Fantasy!  Fantasy Boxing for real cash!  Sign up here.
Conclusion
What a great PPV fight! Amir Khan and trainer Virgil Hunter had a great boxing game plan that actually worked for the first 3 rounds of the fight. Khan moved around Canelo and became the counterpuncher as he stunned Canelo in the 1st round with some hard counter shots.
Canelo continues the impress the boxing world, however, as he adjusted to the quickness of Khan, cut the ring off, and found a way to deliver the best knockout of 2016. After the knockout, Canelo was sincerely concerned about Amir Khan as he walked over to Khan's motionless body to see if he was okay.
Canelo also invited Gennady 'GGG' Golovkin into the ring after the fight to announce to the boxing world that he is a Mexican fighter and Mexican fighters don't mess around. Canelo assured the boxing world that he would fight Triple G tomorrow if he had his way.
Amir Khan's trainer Virgil Hunter added his 2 cents into the conversation by stating his fighter Khan stepped up and fought a bigger man in Canelo, so Canelo should stop running and do the same by fighting Triple G.
Anyway, so Canelo conquered Khan. With that said, will Canelo stay true to his word and fight Triple G next, or will we have another "Lennox Lewis vs. Riddick Bowe" situation from 20+ years ago when Bowe was supposed to have fought his mandatory heavyweight challenger Lennox Lewis and decided to throw his WBC world heavyweight title in a trash can rather than fight Lewis.
I would love to see Canelo Alvarez vs. Gennady 'GGG' Golovkin in the fall, but my head tells me that Golden Boy Promotions is going to advise Canelo to throw his WBC middleweight title in the trash can, let Triple G pick up the WBC middleweight title out of the trash can, thus, leaving Triple G no choice but to fight Billy Joe Saunders in his next fight to unify the middleweight division.
Yeah, I will say it for Virgil Hunter, CANELO STOP RUNNING!

Loading ...
The Right One: How to Successfully Date and Marry the Right Person!
For more boxing news and articles continue to visit www.potshotboxing.com. If you like this post and other's from Potshot Boxing, feel free to subscribe to this boxing website by entering your email address into the floating email form provided on this post! Potshot Boxing – "Boxing news and article bites for all walks of life."