Now I knew heading into the Canelo Alvarez vs. James Kirkland fight that fireworks would be produced, but I did not know that it would be a fight that would make amends to the boxing world for a fight that happened a week before that was supposed to be the fight of all fights.
Floyd Mayweather, Jr. vs. Manny Pacquiao was the biggest economical fight of all time, but not the best fight.  The Canelo Alvarez vs. James Kirkland fight produced more action in 3 rounds than the Mayweather vs. Pacquiao fight produced in 12.  Heck, Mayweather and Pacquiao probably could not produce those types of fireworks in 10 fights with each other.
Get Potshot Boxing (PSB) t-shirts, hats, mugs, and other great merchandise from the Potshot Boxing (PSB) Store!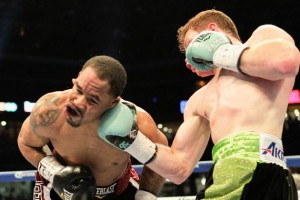 Anyway, the Minute Maid Park in Houston, Texas was treated to an all out slugfest on May 9, 2015 as Kirkland and Canelo did not leave anything on the table. James Kirkland came out in the 1st round and headed straight over to Canelo Alvarez and just start throwing hard bad intention shots.
Canelo wisely allowed Kirkland to bring the heat to him and started to use a good straight left jab, a right hook, and a straight right to counter the ultra-aggressive Kirkland for as long as this fight lasted.  Kirkland was super relentless in his attack on Canelo and did manage to land a solid right hand on Canelo.
Kirkland would continue his reckless assault in the 1st round as he threw vicious punch after punch at Canelo.  Kirkland's aggressiveness, however, would catch up to him when Canelo caught him with a hard right hook that sent him stumbling down to the canvas.
Kirkland showed unbelievable will as he got up from the right hook and kept coming after Canelo like I have never seen a fighter go after someone before.  Canelo continued to land the straight left hand to Kirkland's body and the straight right hand to Kirkland's head down the stretch in the 1st round.
Kirkland's showed great will, but Canelo won the 1st round big with his controlled power punching and accurate robotic combination punching on Kirkland.
In round 2, Canelo slowed down a bit which allowed Kirkland to shake off the cobwebs, continue to walk down Canelo and land some solid punches on him.  Canelo would come back and land some good solid body shots and consistent right hands to Kirkland's head that just could not miss.
These 2 fighters simply threw out boxing in this fight, and made the fight an all out street fight, a bar fight; it was like one guy asked the other guy outside.
Canelo would close the 2nd round by landing more clean combinations on Kirkland, and Kirkland took every power shot as if to say "that's all you got" Canelo."  Kirkland was simply an ironman in this fight, but round 3 would spell doom for Kirkland.
Find eCards for any holiday, tone, or occasion with the quality you expect from Hallmark.
In round 3, Kirkland continued to move forward as his corner told him after round 2 that Canelo was wearing down.  Kirkland just threw punches from every angle in hopes of catching Canelo with something big.  Even though Kirkland was ever so dangerous with his will-breaking aggression, he made the fight extremely easy for Canelo.
As Kirkland was coming in on the inside of Canelo, he got caught with one of the best right uppercuts of the year as Canelo dropped him in the 3rd with that uppercut.  Now, most fighters would have been knocked out by that tremendous right uppercut, but Kirkland is just a different type of fighter.
Kirkland would get up from the devastating right uppercut, and continued to try to impose his will on Canelo.  As the 3rd round moved on, Canelo would land vicious combinations on Kirkland, but Kirkland kept on coming!
Finally, Canelo's robotic accuracy would win the night as he threw a straight left hook to Kirkland's body followed up by a career-ending straight right hand that made Kirkland spin around and hit the canvas as I believe that Kirkland was out of his feet after taking that vicious straight right hand.
When Kirkland hit the canvas for the final time, the referee immediately stopped the fight.  Canelo was awarded the 3rd round knockout victory which should amend boxing fans all across the world after witnessing the brilliance of Floyd Mayweather, Jr. against Manny Pacquiao.
Remember Boxing World, Floyd Mayweather is a safe-first fighter so fireworks will only happen in a Mayweather fight if the other fighter brings it out of him.
Anyway, the Saul "Canelo" Alvarez vs. James "Mandingo Warrior" fight is the best fight I have seen so far this year and it was only 3 rounds long!  This is the kind of fight that every boxing fan loves to see.  I cannot wait to see who Canelo gets into the ring with next.
Here are the boxing results from the other boxing action that took place on May 9, 2015!
Omar "Panterita" Figueroa defeated Ricky "Rickster" Burns by 12th round unanimous decision victory.
Austin "No Doubt" Trout defeated Luis "El Taino" Galarza by 7th round TKO victory.
Find out how to live healthy and happy till your last days. Learn Here!
For more boxing news and articles continue to visit www.potshotboxing.com. If you like this post and other's from Potshot Boxing, feel free to subscribe to this boxing website by entering your email address into the floating email form provided on this post! Potshot Boxing – "Boxing news and article bites for all walks of life."