Here are the boxing results from the Liam Smith vs. Canelo Alvarez WBO junior middleweight title fight! 
So the Liam Smith vs. Canelo Alvarez extravaganza turned out to be pretty good. The boxing fans inside of the AT&T Stadium in Arlington, Texas and around the world got an outstanding performance out of Canelo.
Liam Smith played right into the hands of Canelo as he stood in front of him the entire night which spelled disaster for Smith. The first piece of drama, however, would be provided by Smith as he landed a vicious shot in round 2 that caused a cut over Canelo's left eye.
The fight would move on as Smith continued to stalk Canelo, while Canelo continued to focus on Smith's body. In round 5, Canelo would return the favor to Smith as he landed a vicious shot that opened up a cut over Smith's right eye. The cut, however, would not stop Smith from having a great round 5.
FanDuel Fantasy Football! You could be winning right now. Sign up today!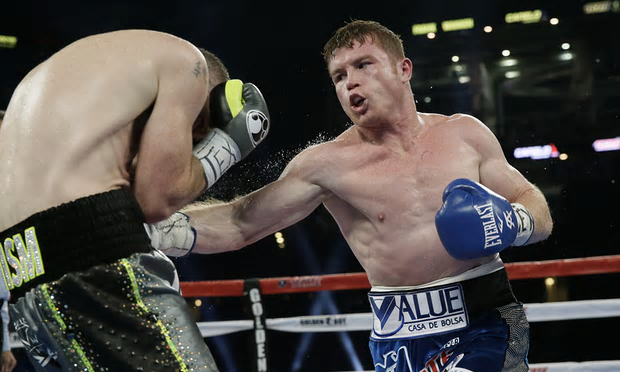 Smith had his moments in the fight, particularly in rounds 5 and 6, when he backed Canelo into the ropes and landed some hard shots to Canelo's head and body to the amazement of the AT&T Stadium boxing crowd.
All of that great action by Smith, however, woke up the sleeping giant as Canelo came right out in the 7th round and made Smith pay for the feverish stalking. Smith backed Canelo into the ropes in the 7th round and got off some more good body and head work on Canelo.
The round was going well for Smith until Canelo caught him with an overhand right on the top of his head that sent him down to the canvas. Smith got up from the bruising blow and fought Canelo hard down the stretch in the 7th.
Liam Smith is one tough son of a gun! In round 8, Canelo would follow up the 7th round knockdown on Smith, with a devastating left hook to the body that sent Smith back down to the canvas. By then it was clear that Smith was starting to get broken down by the bigger and stronger Canelo.
Smith showed plenty of heart as he courageously fought on into the 9th round, but another unforgiving left hook to the body was waiting on him. Canelo landed a sweeping left hook to Smith's body in the 9th round that sent Smith back to the canvas.
The referee stopped the fight and Saul 'Canelo' Alvarez was awarded the 9th round KO victory. Canelo Alvarez is the new WBO junior middleweight champion.
Conclusion
Liam Smith showed a lot of heart on September 17. He bravely stalked Canelo and was willing to dish out as much as he was taking. The only problem, however, is that Canelo is just too big and powerful for Smith to be as brave as he was.
Smith's boxing game plan proved to make him the perfect opponent for Canelo. When a fighter stands in front of Canelo like that, the outcome is usually doom for his opponents and that's what happened in this fight.
So what's next for Canelo? Well, it certainly will not be Gennady 'GGG' Golovkin as GGG has at least 2 possible options standing in his way which are 'Miracle Man' Daniel Jacobs and Billy Joe Saunders. I am really not interested in who Canelo fights next until he finally steps into the ring with GGG.
And Boxing World, we may not see GGG vs. Canelo until either late 2017 or early 2018.
Check out these great t-shirts provided by Potshot Boxing's (PSB) Championship Tees By PSB!

Loading ...
For more boxing news and articles continue to visit www.potshotboxing.com. If you like this post and other's from Potshot Boxing, feel free to subscribe to this boxing website by entering your email address into the floating email form provided on this post! Potshot Boxing – "Boxing news and article bites for all walks of life."