Here is Potshot Boxing's (PSB) Fight of the Month for May of 2015!
On May 2, 2015, the supposed "Fight of the Century" between Floyd "Money" Mayweather, Jr. vs. Manny "PacMan" Pacquiao turned out to be the "Boxing Dud of the Century."  With that said, this fight was supposed to have been a stone cold lock for Potshot Boxing's (PSB) Fight of the Month for May 2015.
Mayweather and Pacquiao's fight debacle opened the door for more explosive fights to be considered for Potshot Boxing's Fight of the Month.  There were a lot of good fights in the month of May; from Gennady "GGG" Golovkin destroying Willie "The Mongoose" Monroe, Jr. for a record 20 straight stoppages to James "Chunky" DeGale putting the boxing world on notice with his impressive win over Andre "The Resurrected" Dirrell.
The month of May produced some good fights, but the fight that caught my attention and was chosen as Potshot Boxing's (PSB) Fight of the Month for May 2015 was the fight after the debacle on May 9, 2015 between Saul "Canelo" Alvarez vs. James "Mandingo Warrior" Kirkland.
This fight between Alvarez and Kirkland was chosen fight of the month simply because of the sheer brutality of the fight that woke the boxing world up again and shook off the bad taste that Floyd Mayweather, Jr. and Manny Pacquiao left in our mouths.  Now this fight only lasted 3 rounds, but these 2 guys produced more action in 3 rounds than Mayweather and Pacquiao produced in their entire fight.
For boxing tickets to upcoming big fights go here…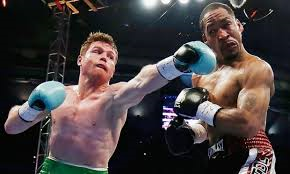 The Minute Maid Park in Houston, Texas was treated to an all out slugfest on May 9, 2015 as Kirkland and Canelo left nothing on the table. James Kirkland came out in the 1st round and headed straight over to Canelo Alvarez and just start throwing hard bad intention shots.
Canelo used his good straight left jab, a right hook, and a straight right to counter Kirkland for as long as this fight lasted.  As the 1st round continued, Kirkland's relentless attack on Canelo led him to landing a solid right hand on Canelo that momentarily got Canelo's attention.
Kirkland would continue his reckless assault in the 1st round as he threw vicious punch after punch at Canelo.  Kirkland's aggressiveness, however, would get him in trouble when Canelo caught him with a hard right hook that sent him stumbling down to the canvas.
Kirkland showed true grit as he got up from the right hook and kept coming after Canelo like I have never seen a fighter go after someone before.  Canelo continued to land the straight left hand to Kirkland's body and the straight right hand to Kirkland's head down the stretch in the 1st round.  Kirkland's showed great will, but Canelo won the 1st round big with his controlled power punching and accurate combination punching.
$10,000 one-day fantasy tournaments! Draft your team, watch the fights, and win!
In round 2, Canelo slowed down a bit which allowed Kirkland to shake off the cobwebs, continue to walk down Canelo and land some solid punches on him.  Canelo countered Kirkland's attack with some good solid body shots and consistent right hands to Kirkland's head that just could not miss.
These 2 fighters threw out boxing in this fight, and made it all out street fight, a bar fight; it was like one guy asked the other guy outside.  This fight had me saying to myself, "Boxing will never die because of heroic fighters like these 2 guys!"
As the 2nd round came to an end, Canelo continued to land clean, eye-opening combinations on Kirkland, and Kirkland took every power shot as if to say "that's all you got Canelo."  Kirkland was simply an ironman in this fight.
In round 3, Kirkland continued to move forward as his corner smartly told him after round 2 that Canelo was wearing down.  Kirkland threw punches from every angle in hopes of catching Canelo with something big.
As Kirkland was coming in on the inside of Canelo, he got caught with one of the best right uppercuts of the year as Canelo dropped him in the 3rd with that uppercut.  Now, most fighters would have been knocked out by that tremendous right uppercut by Canelo, but Kirkland is made from a different cloth.
Kirkland got up from the right uppercut, and continued to try to impose his will on Canelo.  As the 3rd round moved on, Canelo would land vicious combinations on Kirkland, but Kirkland kept on coming!
Like Doritos? Get a Doritos Sample here!
Finally, Canelo's laser accuracy would win the night as he threw a straight left hook to Kirkland's body followed up by a devastating straight right hand that made Kirkland spin around and hit the canvas.
When Kirkland hit the canvas for the final time, the referee immediately stopped the fight.  Canelo was awarded the 3rd round knockout victory which should amend boxing fans all across the world after witnessing the brilliance of Floyd Mayweather, Jr. against Manny Pacquiao.  Again, I will say that eventhough the Mayweather vs. Pacquiao fight was a complete dud, it did show the brilliance of Floyd Mayweather, Jr. in my humble opinion.
Conclusion
The Saul "Canelo" Alvarez vs. James "Mandingo Warrior" fight is the best fight I have seen so far this year and it was only 3 rounds long!  This is the kind of fight that every boxing fan loves to see which is a knock down, drag out war.  I cannot wait to see who Canelo gets into the ring with next.
Canelo may be getting into the ring with Miguel "Junito" Cotto in the fall.  If that happens it will be major Pay-Per-View fight in my humble opinion.  As for James Kirkland, I would like to see him take some time off because he was slurring his words in the post-fight interview of that fight.
The fight between Saul "Canelo" Alvarez and James "Mandingo Warrior" Kirkland was simply refreshing and action-packed enough for the boxing world to put the Mayweather/Pacquiao debacle in our rear view mirrors so for that reason; the Alvarez vs. Kirkland fight was a no-brainer for Potshot Boxing's Fight of the Month for May 2015!
Need a Tattoo? Find the perfect tattoo here at Infinite Tattoos to print off and take to your local Tattoo Artist to draw on you!
For more boxing news and articles continue to visit www.potshotboxing.com. If you like this post and other's from Potshot Boxing, feel free to subscribe to this boxing website by entering your email address into the floating email form provided on this post! Potshot Boxing – "Boxing news and article bites for all walks of life."