This fight is not actually official yet, but The Pound for Pound King Floyd Mayweather, Jr. is on record stating that he has found an opponent for the September 13 showdown. The opponent will once again be Marcos "El Chino" Maidana.
The rematch between Mayweather and Maidana will probably break all of the boxing revenue records because most of the boxing world was anticipating a Mayweather/Maidana rematch.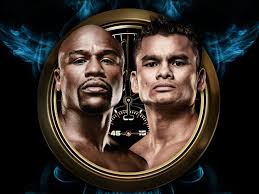 Photo Credit: allhiphop.com
The last time this two fighters step in the ring with one another, Maidana gave Mayweather all he could handle as he did not let Mayweather rest at any time in the fight. Mayweather was awarded the majority decision in the first fight to the chagrin of a lot of boxing fans.
This is really the only fight that makes sense for Mayweather given that there are some boxing fans who really feel that Mayweather was beaten by Maidana back in May of this year. For all the talk of Floyd Mayweather being all about the dollars, this is simply the perfect fight to market to the boxing world.
This rematch between Mayweather and Maidana will most likely take place on Mayweather's home court at the MGM Grand Hotel & Casino. Mayweather will once again be putting up his WBC and WBA (Super) welterweight titles on the line against the always tough Maidana.
Can Marcos Maidana take away the unblemished record from Mayweather, or does Mayweather learn from the mistakes he made in the first fight and cruise to another victory?
Conclusion
We have to give the Pound for Pound King Floyd Mayweather, Jr. credit. He is going to give the boxing world the fight they wanted for the second time in a row. Maidana should have been the only choice for September anyway given Maidana's remarkable performance against the best fighter in the world.
Mayweather may finally have found a true adversary in Maidana that the boxing world can associate Mayweather with and appreciate Mayweather for it.
Maidana is the type of fighters that can cement Mayweather's legacy given that Maidana clearly has no respect for what Mayweather has accomplished and just wants to get in the ring with Mayweather and try to beat him up.
When this fight becomes official, I cannot wait to see the Floyd Mayweather Jr. vs. Marcos Maidana II extravaganza on September 13, 2014!!