Check out Potshot Boxing's (PSB) Prediction for the upcoming 10 round fight between Brandon Rios and Diego Chaves!!
Android Tablet for only $1 when you use a 3-day trial of NowLucky.com
Brandon "Bam Bam" Rios will be making his return to the ring on August 2, 2014!! His opponent will be Diego "The Jewel" Chaves. Chaves is definitely the right opponent for Rios to step back into the ring with because like Rios, Chaves likes to brawl so this will make for a special night of action at The Cosmopolitan in Las Vegas, Nevada.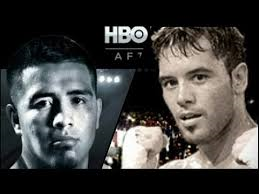 Photo Credit: fallodividido.com                                                          
Rios is coming off of a winless 2013 as Manny Pacquiao and Mike Alvarado handed Rios the first two losses of his professional boxing career. Chaves on the other hand, lost his first professional fight against the tough and rugged Keith "One Time" Thurman in July of 2013, but bounced back this past February with a 3rd round TKO victory over Juan Alberto Godoy.
This is going to be a really good fight. This fight almost did not happen because Chaves was in Argentina waiting to receive a Visa card to get back over to the States. He almost did not make it. Chaves was finally issued a Visa card in Argentina and is expected to be in Vegas by Thursday so the fight is on for Saturday night.
Android Tablet for only $1 when you use a 3-day trial of NowLucky.com
This fight is scheduled for 10 rounds but I am sure that this fight will not go the distance. This is a matchup of "Fire vs. Fire" so bombs will be thrown all night in this fight by these two fighters who like to stand and slug it out with their opponents.
I expect for Rios to come out throwing bombs for start to finish in this fight. I also expect for Chaves to come out throwing bombs from start to finish in the fight. It will simply be a war of attrition between these two fighters this upcoming Saturday night. I like both of these fighters because the sport of boxing needs fighters like Rios and Chaves who do not run, but rather fight until there is nothing left.
We have a serious potential 2014 fight of the year on our hands August 2, 2014. So who wins? I feel the fighter who gets his will broke first in this fight will be the loser, and I think in the end Rios will prove to be the bigger aggressor and will-beater in this fight.
Prediction: Rios by Knockout
Android Tablet for only $1 when you use a 3-day trial of NowLucky.com
For more boxing news and articles continue to visit www.potshotboxing.com. If you like this post and other's from Potshot Boxing, feel free to spread the word to your favorite social media channels with your friends and family!! Potshot Boxing – "Boxing news and article bites for all walks of life."