This is a recap of the showdown between Timothy Bradley and the great Juan Manuel Marquez!!
 Find out how to stop a heart attack! Click here!
Timothy Bradley actually stuck to his fight plan and just fought a beautiful fight against the always clever Juan Manuel Marquez.
Bradley stuck out the jab the whole night which threw off the timing of Marquez as he tried to get inside of Bradley's jab to do damage on Bradley, but I have to give credit to Bradley as he stayed smart and did not brawl as much in this fight like he did in his last fight, thus winning the fight easily over the great Juan Manuel Marquez.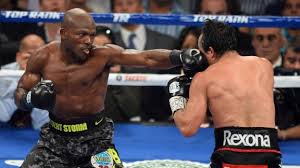 Photo Credit: espn.go.com
Marquez just did not step it up enough and he looked frustrated by Bradley's gameplan as Bradley moved, moved, and moved some more.  Marquez showed flashes of his brilliance as he caught Bradley with some of those great counterpunches, but just not enough of them.
In the end, Bradley did a great job keeping Marquez at bay the entire night en route to a 12 round split decision victory to retain his WBO welterweight crown and with the win, Bradley will also keep his undefeated professional boxing record in tact.  I believe this fight should have been a unanimous decision victory for Bradley because I do not know how a judge can possibly score that fight for the great Juan Manuel Marquez.  Bradley simply carried this fight from start to finish.
With a win of this magnitude and the fact of how easy he made it look, the sky is the limit for the upstart Timothy "Desert Storm" Bradley.  The boxing world is still not giving Bradley a lot of credit because of the Pacquiao fight, but the boxing world better take notice of Bradley now because if he can continue to listen to his corner, fight smart and not brawl, he can be a serious threat to any fighter in the welterweight division.
 Find out how to stop a heart attack! Click here!
For more boxing news and articles continue to visit www.potshotboxing.com. If you like this post and other's from Potshot Boxing, feel free to spread the word to your favorite social media channels with your friends and family!! Potshot Boxing – "Boxing news and article bites for all walks of life."