I must state this again; one of the main reason why I decided to name my website Potshot Boxing is all due to the Great Pernell "Sweet Pea" Whitaker because of "Sweet Pea's" superior defensive skills and the way he gave the true meaning to the phrase "hit and not be hit."  The way Pernell made boxing look like beautiful art is the main reason why I fell in love with boxing so I just thought that it would be great if I paid homage to one of the greatest fighters of all time.
Born and raised in Norfolk, Virginia, the Great Pernell Whitaker has been boxing since the age of nine years old.  As an amateur, Pernell had an outstanding amateur boxing record consisting of 201 wins and 13 losses.  His biggest amateur accomplishments came in 1983 win he won in the finals of the Pan American Games in Caracas, and when he won an Olympic Gold Medal in the 1984 Olympic Games in Los Angeles, California.
After the 1984 Olympics, Pernell "Sweet Pea" Whitaker turn professional in 1985 and one of the greatest defensive fighters in boxing history was born.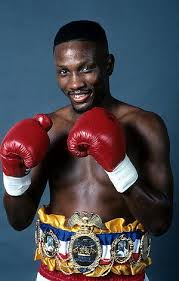 Credit: boxrec.com
Pernell started out his professional boxing career fighting in the lightweight division and it would escalate all the way up to junior middleweight as the great "Sweet Pea" captured title in each division between lightweight and junior middleweight.
Trained by the great Lou Duva, in the early years of "Sweet Pea's" career he fought some of the best lightweights that boxing had to offer.  He racked up wins over fighters such American Roger Mayweather, in which he won the vacant NABF lightweight title, American Greg Haugen in which he won the IBF lightweight title, Mexican Jose Luis Ramirez in which "Sweet Pea's" avenged his at the time only defeat to capture the vacant WBC lightweight title, African boxing great Azumah Nelson, and Puerto Rican Juan Nazario in which Pernell won the vacant Ring and WBA lightweight titles; making him the first undisputed lightweight champion since Panamanian great Roberto Duran.
Wow, that is a lot of great names that are already on his resume and his career has not even started to bloom.
"Sweet Pea" moved up to the junior welterweight division in 1992.  Though having a short stint in the division, Sweet Pea still managed to win the IBF junior welterweight title when he beat Colombian Rafael Pineda.
After junior welterweight, "Sweet Pea" moved up to the welterweight division in 1993 where he dominated for most of the 1990's.  In my opinion, other than the great Roy Jones Junior, Pernell Whitaker was next in line as the best fighter of the 1990's.  Sorry "Sweet Pea," I have to be honest.  Roy Jones, Jr. was so great in the 1990's that he decided to play basketball before one of his fights, Man that's Gangsta.
Anyway, back to "Sweet Pea."  During "Sweet Pea's" illustrious run in the welterweight division, he rode some highs and he suffered some disgraceful lows and when I say disgraceful, I mean how he was robbed of his greatness in a couple of his welterweight fights.
While in the welterweight division, "Sweet Pea" displayed superior boxing greatness as defense and ring generalship ruled the night as he celebrated wins over fighters such as American Buddy McGirt twice, the first time in 1993 in a fight where "Sweet Pea" won the lineal and WBC welterweight crown, and in 1994 when "Sweet Pea" successfully defended the welterweight crown; Puerto Rican Wilfred Rivera twice in 1996, the first time in a close fight in which I have to say a lot of experts felt the Rivera won the fight, and in a rematch in which "Sweet Pea" outpointed Rivera and knocked him down to retain his welterweight title; and Cuban-Spanish boxer Diosbelys Hurtado in a fight where I have to admit again, Pernell looked like his was actually going to lose a fight out right when out of nowhere "Sweet Pea" lands a crushing body blow to Hurtado in the 11th round and then later on in that round would land a left cross that would knock Hurtado into the ropes and Hurtado somehow found himself tangled in the ropes and Pernell unleashed a barrage of lefts that spelled doom for Hurtado as the fight was stopped in the 11th round.
During the high stint of Pernell's welterweight career, Pernell showed the boxing whole once again how great he was by moving up one time to the junior middleweight division in 1995 and defeating Mexican Julio Cesar Vasquez, yes, not Chavez, to capture the WBA junior middleweight title.  After winning the WBA junior welterweight title, Pernell moved back down to welterweight.
Okay those were the highs, now here are the two lows that "Sweet Pea" suffered in the welterweight division, and again, when I mean lows, I am talking about the disgraceful decisions that he received in fights that not only I felt he won but a lot of the boxing world felt he won.  Some of you are going to agree and some of you are going to disagree, but this is my story and I am sticking to it.
First disgrace:  Pernell "Sweet Pea" Whitaker vs. Julio Cesar Chavez in 1993
When I watched this fight, I never really seen anyone outbox Chavez the way that "Sweet Pea" did in that fight.  Chavez could not find Pernell to hit him and the ring generalship that Pernell displayed in that fight was unmatched, in my opinion, and "Sweet Pea" might even agree with me, that this was one of his best fights and it was stripped away from him because two of the judges must have been blind by scoring the bout even which caused the bout to be a majority draw; one of the biggest robberies in boxing history.  At the time, Julio Cesar Chavez was the best pound for pound fighter in the world and in my eyes Pernell made him look like a B fighter.
Second disgrace:  Here is where it can get dicey, Pernell "Sweet Pea" Whitaker vs. Oscar De La Hoya in 1997.
Okay, disgrace may not need to be the word when it comes to the Golden Boy.  In fact, I was happy when the Golden Boy busted up Julio Cesar Chavez en route to a 4th round stoppage, but seriously, I really do not feel that Oscar De La Hoya beat Pernell Whitaker in 1997.  This is one of those fights where in my opinion, the judges like power punching because this was the only category where Oscar scored more that Pernell in the fight.  Whitaker not only knocked Oscar down in the fight, but he clearly outboxed Oscar and made Oscar look crazy out there.
At the end of the day, I just think it was a fight in which the judges all liked power punching and to me, Pernell did not get hit with enough leather by the Golden Boy to lose the fight.  If Oscar would have given Pernell a rematch I think even Oscar knew he would have lost.  Again, this is my story and I am sticking to it.
After the De La Hoya fight, "Sweet Pea" just did not look as great as used to.  Maybe father times caught up with him or whatever, but in my opinion, to this day I believe the De La Hoya decision bothered him a little bit.
Pernell would go on to finish his career with a no contest to Russian Andrey Pestryaev, a loss to Puerto Rican great Felix "Tito" Trinidad which in my opinion is the only true loss of Pernell's career, and a loss to Mexican Carlos Bojorquez in a fight where "Sweet Pea" hurt his shoulder and was not able to finish the fight, therefore, the referee stopped the fight in round 4.
After the Bojorquez fight, "Sweet Pea" announced his retirement from boxing, finishing his professional boxing career with an outstanding records consisting of 40 wins 4 losses 1 draw and 1 no contest.  Again, I feel that "Sweet Pea" really and truly only loss one fight in his career.
Where is Pernell "Sweet Pea" Whitaker Now?
After "Sweet Pea" retired he was inducted into the International Boxing Hall Of Fame in 2006, and he currently is a Professional Boxing Trainer.
Conclusion
Pernell "Sweet Pea" Whitaker is already in the history books as one of the best fighters of this century.  If there was a poll of an all-time top 25 list of boxers, "Sweet Pea" would have to be included and I do not mean at 25 either.  I will say this, for the novice boxing fan, Pernell was so good that he was bad to novice boxing fans who only got a jolt out of boxing if they see a knockout, but to the pure hardcore boxing fans, we can all agree when I say that to see such a magician as the great Pernell "Sweet Pea" Whitaker was in that squared circle from one fight to another; love him or hate him, he gave you something to talk about after every one of his fights.
Pernell "Sweet Pea" Whitaker, as one of your biggest fans I would like to say thank you for giving boxing a wonderful treat and for all of those who you are currently training, I hope that they know what a true boxing genius and icon you are and that they take advantage of the great knowledge that I know you will bestow of them. So here's to you "Sweet Pea," a great boxing legend.
For more boxing news and articles continue to visit www.potshotboxing.com. If you like this post and other's from Potshot Boxing, feel free to spread the word to your favorite social media channels with your friends and family!! Potshot Boxing – "Boxing news and article bites for all walks of life."