Here is the boxing results from the WBC light-heavyweight title fight between Adonis "Superman" Stevenson and Andrzej Fonfara!!
Adonis "Superman" Stevenson was simply "Super" against Andrzej Fonfara tonight as Stevenson used his great jab and counterpunching skills to just overwhelm Fonfara with a barrage of vicious body shots in this fight.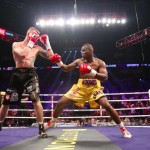 Photo Credit: Showtime Sports @SHOsports
This fight was a tale of 2 halves because Stevenson was explosive in the 1st half of the fight, but Fonfara just had a burning will to survive as he took everything that Stevenson had to give and he kept coming after Stevenson!!
Fonfara starting out this fight by surprisingly coming forward and trying to force Stevenson to fight going backwards, but it was to no avail as Fonfara would get knocked down in the 1st round by Stevenson.  Stevenson went in for the kill on Fonfara in the 1st round by throwing a barrage of power punches to the body of Fonfara, but Fonfara proved to be one tough customer as he took the explosive punches from Stevenson and survived the 1st round.
Stevenson simply used his jabs and counterpunches brilliantly tonight as he targeted the body of Fonfara the whole night.
Stevenson's continued vicious attack to Fonfara's body created another knockdown in round 5 as Stevenson caught Fonfara yet again.  Fonfara settled down, got up off of the canvas in round 5, and started to land some body shots of his own on Stevenson as Fonfara will to be champion would not die in this fight!!
As the fight went into the later rounds, Stevenson had built up enough points to win the fight on the judges scorecards as Stevenson was still chopping at Fonfara's body, however, in a stunning turn of events,  Fonfara would catch Stevenson in round 9 with a brutal counter power punch that sent Stevenson to the canvas.  Stevenson would do the smart thing by holding on to Fonfara in hopes of surviving the 9th round as Stevenson got caught with the power shot from Fonfara early on in the 9th round so there were times in the 9th round where it looked as though Stevenson would get knocked out by Fonfara and lose his title.
Stevenson would survive the 9th round and closed the show in strategic fashion as his continued attack on Fonfara's body would prove to Stevenson's key to retaining his WBC light-heavyweight title.  Both fighters finished the fight strong as both Stevenson and Fonfara fought toe to toe in the 12th round and gave the boxing world a surefire treat in the final round of the fight; which was one of the best rounds of 2014.
This fight would end up going the distance and Adonis Stevenson was awarded the 12 round unanimous decision victory; thus; Stevenson survives and retains his WBC light-heavyweight championship.
Conclusion
Adonis Stevenson simply won the fight in impressive fashion with great body punching despite being knocked down and almost out in the 9th round of this fight.  With the win, Stevenson may have a showdown with the legendary "Alien" Bernard Hopkins!!  I would love to see that fight if it happens, but if Stevenson wants to win against the great Bernard Hopkins, he is going to have to step up the pace and not run out of gas because if he does, he may not be so lucky against an all-time superior boxing like Bernard Hopkins!!
As for Andrzej Fonfara; he has won over a lot of fans after tonight given that he took a lot of punishment from Stevenson and he just kept coming.  The boxing world appreciates a great warrior like Fonfara, and the boxing world would love to see Fonfara fight in the near future.