Check out the boxing results from Saturday, May 30, 2015!
There was a lot of great boxing action that took place last night, but the main boxing action took place outside of The States, particularly at the O2 Arena in London, England.  The O2 Arena in London, England featured 2 good fighters in Kell Brook and Evgeny Gradovich.
Kell Brook had a pretty easy time with Frankie Gavin and unlike his nickname; Gavin did not have a "Funtime."
$10,000 one-day fantasy tournaments! Draft your team, watch the fights, and win!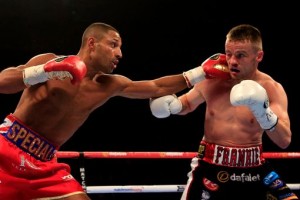 In the 6th round of that fight, Brook caught Gavin with a short right uppercut followed by a straight right hand that sent Gavin staggering back against the ropes.  Brook would continue his assault on Gavin by landing a barrage of smothering punches and then he finished the job by landing a big right hook combo to Gavin's head and body which prompted the referee the jump in and stop the fight.
Kell "Special K" Brook was awarded the 6th round TKO victory over Frankie Gavin, thus, retaining his IBF welterweight title.
In other boxing news, Boxing World, we have a brand new IBF featherweight champion and his name is Lee Selby.  In this fight, Selby was just a matador in there with the bullish Evgeny Gradovich.  He stayed on his toes the entire night and countered Gradovich beautifully at every turn in this fight.
Gradovich stayed relentless, however, and kept on trying to impose his will on Selby, but Selby stayed patience and focused on keeping the aggressive Gradovich at bay.  In the 7th round, Gradovich suffered a bad cut over his right eye due to the 2 fighters clashing heads, but Selby clearly was out boxing Gradovich up to this point in the fight.
In round 8, Selby took advantage of Gradovich's bad cut by landing more punches on that right eye which caused the referee stop the action and check Gradovich's eye.  The referee checked the cut over Gradovich's eye, determined it was too bad for Gradovich to continue and stopped the fight.  Because the fight was stopped past 4 rounds due to a head butt, the fight went to the scorecards.
The judges scored this fight 72-80, 73-79, and 73-79 all for the winner and The New IBF featherweight champion of the world Lee "The Barry Boy Assassin" Selby.
Check out the boxing results from other great boxing action that took place on Saturday, May 30, 2015.
Jorge "Golden Boy" Linares defeated Kevin "The Hammer" Mitchell by 10th round TKO victory to retain his WBC lightweight title.
Kosei Tanaka defeated Julian Yedras by 12th round unanimous decision victory to capture the vacant WBO strawweight title.
Javier "Cobra" Mendoza defeated Milan "Method Man" Melindo by 6th Technical Decision to retain his IBF junior flyweight title.
Want to learn how to make your body a 24-hour fat-burning machine?  Check out The Fat Burning Kitchen System!
For more boxing news and articles continue to visit www.potshotboxing.com. If you like this post and other's from Potshot Boxing, feel free to subscribe to this boxing website by entering your email address into the floating email form provided on this post! Potshot Boxing – "Boxing news and article bites for all walks of life."