Chris Algieri. Who is he? Well going into the fight against Ruslan Provodnikov, all the boxing world knew about him was that he was a good boxer and an undefeated fighter with not a lot of power.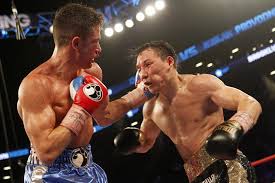 Photo Credit: nydailynews.com
The Barclays Center crowd was at the fight to see Ruslan Provodnikov blow away another boxer with his unbelievable pressure and power, and when the fight between Provodnikov and Algieri started, it looked as though Provodnikov was going to give the boxing world what we wanted.
In the 1st round, Provodnikov starting off pressuring Algieri by effectively cutting off the ring and throwing hard looping shots to the body of Algieri. Provodnikov's pressure would led to a 1st round knockdown of Algieri as Provodnikov caught Algieri with a huge left hook that sent Algieri rolling to the canvas.
Provodnikov would score another knockdown on Algieri in the 1st round as it just looked like Algieri was overwhelmed by the sheer determination, pressure, and power of Provodnikov. Algieri would survive the 1st round, however, and started to get his legs back under him as Algieri would use his good jabs and movement to land on Provodnikov.
This fight became a fight of skill vs. will as Algieri started to use his skill to start landing good counterpunches on Provodnikov, but Provodnikov used his tremendous will to continue to stalk Algieri and land some good body and head shots on Algieri.
Algieri did a great job for the rest of this fight by moving and circling Provodnikov as he started to land counterpunch after counterpunch on Provodnikov. Algieri landed more punches, but Provodnikov ruled the night will vicious punching power as he continued to come forward and inflict huge damage on Algieri, specifically on Algieri's swollen eye.
So who won? Again, this was a tough fight to score for the judges because even though Algieri landed more punches, Provodnikov did the most damage so it just depended on what the judges like. It took a little while for the judges to make their final decision, but here are the results; one judge score the fight 117-109, and the other 2 judges scored the bout 114-112 for the winner by split-decision victory, and New WBO junior welterweight champion Chris Algieri.
Conclusion
What is stunning decision by the judges!! This is what you call a judges' delight kind of fight because a tough fight like this is extremely hard to judge so it just boils down to what the judges like. Do the judge like defense, do the judge like aggression, or do the fight like ring generalship!!
I personally think Provodnikov's sheer pressure, power, and determination won the fight, but you have to give Algieri credit for getting up off the canvas twice to outbox Provodnikov en route to winning the WBO junior welterweight crown!! I love defensive fighters, but I just feel that Algieri was pity-patting Provodnikov, while Provodnikov was landing the cleaner and harder shots.
Give Algieri credit though!! He did not quit, he stayed in the pocket and used his skills to bring home a world title. I feel that Provodnikov did not lose any creditability for losing this fight and maybe these two fighters should do it again in the fall!!