Amir "King" Khan and Devon Alexander "The Great" have agreed on terms to fight each other on December 13, 2014!
Get your Bernard Hopkins vs. Sergey Kovalev boxing tickets here at PSB! Ticket prices start at $61.00!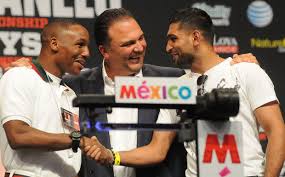 Photo Credit: mlive.com
Amir Khan continues to shout to the world that he wants to fight Floyd Mayweather, Jr.  Well, Amir will have to wait and see if a possible fight with Floyd Mayweather, Jr. is in the cards for him in the near future.  Meanwhile, Amir Khan is set to face off against Devon Alexander who is also looking for an opportunity to score a big fight in the welterweight division so this makes for an interesting fight on December 13.
This should be a pretty good matchup.   Both of these fighters are elusive so the boxing world could be in for a good boxing chess match.  Amir may be the more aggressive of the two.  Whoever wins this fight will be one step closer to a big showdown with the Pound for Pound King Floyd Mayweather, Jr. or one of the other top welterweights in the division.
This welterweight bout is scheduled for 12 rounds and will take place at the Mandalay Bay Events Center in Las Vegas, Nevada.  Showtime will air this fight between Amir Khan and Devon Alexander.
 Check out this great boxing book "The Ultimate Encyclopedia of Boxing" Click Here!
For more boxing news and articles continue to visit www.potshotboxing.com. If you like this post and other's from Potshot Boxing, feel free to spread the word to your favorite social media channels with your friends and family!! Potshot Boxing – "Boxing news and article bites for all walks of life."