Heads up Boxing World, if you want to see the Floyd Mayweather, Jr. vs. Manny Pacquiao weigh-in on May 1, 2015, be prepared to pay admission.  That's right! This is not a misprint! If you are in Las Vegas for the May 2, 2015 extravaganza you will even have to pay admission to see the weigh-in.
This is the 1st time in boxing history that boxing fans will have to pay admission if they want to see a weigh-in prior to a fight.  The price for admission to the May/Pac weigh-in will be $10.00 each and all of the proceeds will go to a charity of both Mayweather and Pacquiao's choice.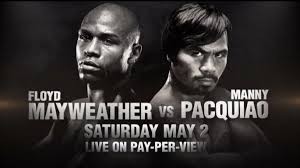 The charities that will benefits from the weigh-in proceeds on May 1, 2015 will be the Lou Ruvo Center for Brain Health which is the charity Pacquiao chose, and Susan G. Komen which is the charity that Mayweather chose.  The proceeds from the May 1, 2015 weigh-in will be split equally between the 2 charities.
The reason why boxing fans will have to pay for the May/Pac weigh-in is to have better crowd control, according to Brad Jacobs who is the executive event producer for Top Rank Promotions.
Well Boxing World, if you want to be a part of boxing history you are going to have to go the extra mile to enjoy the festivities of the May/Pac event even down to the weigh-in which is supposed to be free! However, looking on the bright side of charging boxing fans to see the weigh-in, at least the proceeds will be going to 2 great causes. One of those causes is very near and dear to me and that is the Susan G. Komen charity so if it takes a weigh-in to get more money generated to further the research of Cancer, then I am all for it.
For more boxing news and articles continue to visit www.potshotboxing.com. If you like this post and other's from Potshot Boxing, feel free to subscribe to this boxing website by entering your email address into the floating email form provided on this post! Potshot Boxing – "Boxing news and article bites for all walks of life."