Here is a recap of the fights that took place on HBO and Showtime Boxing on Saturday, June 13, 2015!
WBC heavyweight champion Deontay "Bronze Bomber" Wilder gave his hometown crowd at the Bartow Arena in Birmingham, Alabama an outstanding performance against a very good boxer in Eric "Drummer Boy" Molina.
A lot of boxing fans, including myself thought that this fight would not go past 5 rounds.  Well, Molina showed the boxing world that he had heart and was looking to take advantage of his championship opportunity as he got up from knockdown after knockdown to give the boxing world a good show against Wilder.
$10,000 one-day fantasy tournaments! Draft your team, watch the fights, and win!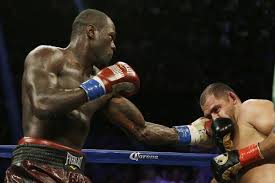 Wilder started the fight off strong in front of his home crowd by using his jab to control the distance on Molina.  Molina allowed Wilder to get off to a great start simply because he did a lot of backing up in the 1st round which allowed Wilder to land his stiff left jab with ease.
As round 1 continued, Wilder started to mix in a big straight right hand that landed on Molina early and often.  Molina was on the defense a lot in the 1st round, but was able to get out of the way of Wilder's big right hook that Wilder was trying to land on him in the 1st round.
Wilder won the 1st round easy with good jabbing and controlled distance.
Wilder backed up Molina some more in the 2nd round with that good left jab.  Molina, however, would land a big right hand that got Wilder's attention.  As round 2 went on, Wilder landed a huge looping left hook on Molina that got the Bartow Arena crowd rocking and rolling over their hometown hero.
Molina was seriously hurt by Wilder's left hook, but was able to get out of the 2nd round and clear his head for the 3rd.  Wilder took the 1st 2 rounds of this fight pretty easy.
If there was a round to give to Eric Molina in this fight it would definitely be the 3rd round.  Wilder started off the 3rd trying to keep the distance once again as Molina tried to get inside of the Bronze Bomber's jab.
Molina was not having too much success getting on the inside early on in the 3rd, but as the round went on, Molina provided some fireworks of his own to the chagrin of Wilder's hometown crowd.  Molina would land a big right hand and a huge left hook that momentarily hurt Wilder.  Molina did not follow up with anything though which allowed Wilder to play possum for the rest of the 3rd round with no further damage.
Molina also did a great job landing the uppercut shot that kept Wilder off balance.  Round 3 was a great round for Eric Molina in my humble opinion.
In round 4, the champion would get back to business as he started out the 4th by landing the jab to Molina's body and taking back the distance by keeping the fight in the middle of the ring.  Molina would continue to try and get inside on Wilder as the round continued, but his recklessness got him into trouble late in the 4th as Wilder landed a huge left hook that sent Molina to the canvas.
Molina would beat the 10 count, but as round 4 ended, Molina looked like he was ready to be had by Wilder.
Want a VISA gift card. Find out how to win one here!
In the 5th round, Wilder would test the theory as to whether or not Molina was still hurt by landing a big right hand on him.  Wilder would keep the pressure on Molina and landed some huge left hooks that sent Molina to the canvas twice in the 5th round.  Molina was able to shake off the beating and survive the 5th round.
I give a lot of credit to referee Jack Reiss for not prematurely stopping this fight and giving Molina chance after chance to shock the world.  There are a lot of referees out there in Boxing who would have stopped this fight too soon so I give Reiss credit for stopping the fight when it actually needed to be stopped tonight.
When round 6 started, I thought to myself the longer this fight goes, the more dangerous it will become for Wilder.  Well Molina did have his moments as the fight went into the later rounds.
In round 6, however, Wilder would get back to landing those solid left hooks on Molina.  As the 6th round went on, Wilder continued to walk Molina down and maul him while landing more hard left hooks in the process.
By round 7, it seemed as though both fighters were wearing down.  In round 7, Wilder would land another big left hook that hurt Molina.  Wilder's accurate left hook punching caused Molina to hold on to him for dear life. Molina was just taking a heavy tattooing from the champion at this point in the fight.
Now, if you wanted to find another round to give to Molina, round 8 may be your huckleberry.  Molina started moving forward on Wilder and landing some hard shots to Wilder's body that looked to slow Wilder down.  Molina would follow up his rally by landing a big right hand that bothered Wilder.
Molina closed the 8th round by backing Wilder up against the ropes and landing a barrage of punches to seal a round that you could have given him, but not sure if he was given the 8th round or not by the judges.
Take this survey and get a pizza from Pizza Hut, Papa Johns, or Dominos! Enter here.
In the 9th round, Wilder would start off by landing the jab to Molina's body.  As the round went on, Wilder would land another crushing hook on Molina that sent him to the canvas for good.  The referee reached the count of 10 on Molina and Wilder was awarded the 9th round KO victory.
Conclusion
I give a lot of credit to Molina for giving the champion all he could handle until he finally got knocked out.  Deontay Wilder took another step towards greatness tonight in his WBC heavyweight title defense against Molina.
Wilder still has some things he needs to work on to be a really dominant heavyweight, but as of right now, he is the best heavyweight America has to offer.  Wilder's plans in the near future may be fighting his mandatory Alexander Povetkin.  If that fight happens it will be a true test for Wilder because Povetkin is definitely not a cakewalk for anyone in the heavyweight division.
Povetkin's only loss was to The Heavyweight Champion of the World Wladimir Klitschko so Wilder will need to be on his P's and Q's for that matchup.
Here is the rest of the boxing action that happened on Saturday, June 13, 2015!
Nicholas "Axe Man" Walters cruised to a 12th round unanimous decision victory over defeated Miguel "The Scorpion" Marriaga, but was stripped of his WBA featherweight title due to not making weight for this fight.
Jose "Sniper" Pedraza defeated Andrey Klimov by 12th round unanimous decision victory to capture the vacant IBF junior lightweight title.
Check out Potshot Boxing's (PSB) Store for cool t-shirts, hoodies, hats, cups, mugs, and other great merchandise!
For more boxing news and articles continue to visit www.potshotboxing.com. If you like this post and other's from Potshot Boxing, feel free to subscribe to this boxing website by entering your email address into the floating email form provided on this post! Potshot Boxing – "Boxing news and article bites for all walks of life."