The Nation's Capital was treated to a Philadelphia treat last night as "The Alien" Bernard Hopkins once again used his superior boxing skills and magician tactics to mesmerize another up and coming hungry light heavyweight that is Beibut Shumenov.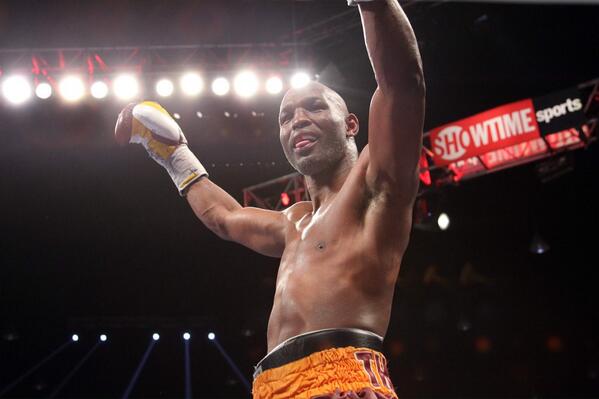 Photo Credit: Showtime Sports@SHOsports
BHOP simply controlled the pace the entire night as he caught Shumenov with lead right hand after lead right hand.  Shumenov just seemed like he was stuck in the mud the whole night because he simply got played like a puppet as Hopkins' boxing pace was so great, Shumenov looked as though he did not know what to do.
Shumenov never stepped up the pace and he held his hands low a lot of the time in the fight which allowed Hopkins to capitalize on it with accurate power punching.
As the fight went on, Hopkins continued to potshot Shumenov with counterpunches every time Shemenov tried to get inside and land punches on Hopkins.
In the 11th round, Hopkins scored a sensational knockdown on Shumenov as Shumenov was posturing and looking in awe of Hopkins instead of trying to defend himself. At the end of the night, Hopkins was just too much for the young and hungry Shemenov as Hopkins cruised to a 12 split decision victory.
Hopkins is now the IBF and WBA lightweight champion, thus, making boxing history as the oldest fighter to ever unify world titles.
Conclusion
Note to the 175 pound weight division; if you do not apply pressure to Hopkins, you will not have a chance against "The Alien."  Shumenov simply did not pressure Hopkins enough in this fight as Hopkins controlled the pace the whole night; while Shumenov simply looked lost the whole night.
After the fight, Hopkins stated that he will be getting his papers ready to go the Canada and fight Adonis Stevenson.  I would love to see that fight if it happens!!
Hopkins really may be an Alien and once this Alien finish fighting; he will go down as one of the very best fighters ever.
Other boxing results from April 19,2014:
Shawn "Showtime" Porter defeats Paulie "Magic Man" Malignaggi by 4th round TKO victory to retain his IBF welterweight title in impressive fashion.
"Kid Chocolate" Peter Quillin defeats Lukas Konecny by unanimous decision to retain his WBO middleweight title.