Here is Potshot Boxing's (PSB) Prediction for the upcoming IBF, WBA (Super), and WBO light heavyweight unification fight between Bernard Hopkins and Sergey Kovalev.
What a fight this is going to be in the light heavyweight division!  Here we have a fighter in Sergey "Krusher" Kovalev who is destined to take over the light heavyweight division on one hand; and on the other hand we have a crafty old veteran in Bernard "The Alien" Hopkins who is destined for Boxing's Hall of Fame.
It's not too late. Get your Bernard Hopkins vs. Sergey Kovalev boxing tickets here at PSB!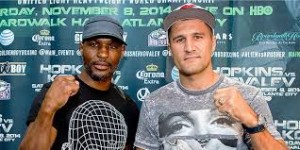 Photo Credit: hbo.com
This is by far Hopkins' toughest fight at light heavyweight and he is going to have to pull out all of his bag of tricks against the undefeated punching destroyer Sergey Kovalev when these two square off at Boardwalk Hall in Atlantic City, New Jersey.
With the exception of a technical draw in his fight with Grover Young, Kovalev has either knocked out or stopped his last 13 opponents.  Also, one caveat the boxing world may not know about Kovalev is that he has never been past the 8th round in his professional boxing career.  That is just crazy!
At 49 years of age, Hopkins is simply a freak of nature.  He has befuddled his last 3 opponents with one of those opponents being Beibut Shumenov.  In Hopkins' fight with Shumenov, Hopkins used his elusive skills to take control of the pace of the fight en route to unifying the IBF and WBA (Super) light heavyweight titles.  By beating Shumenov, Hopkins became the oldest fighter in boxing history to unify world titles.  I believe that Hopkins is an Alien!
So who will win this light heavyweight unification fight?  If Kovalev wants to upset the ageless wonder that is Bernard "The Alien" Hopkins, he will need to use his aggression to set the pace in the fight and try to outwork Hopkins and I expect for him to institute this game plan come fight night.
I expect for Bernard Hopkins to try to lure Kovalev into the old's man game by setting the slow boxing pace in hopes of befuddling yet another up and coming light heavyweight great.  If Hopkins can get this fight to go past 8 rounds, I would love to see how the Krusher Kovalev's stamina will respond to the 9th round and beyond.
Kovalev should try and step up the pace early in hopes of doing what no one has ever done to Bernard Hopkins and that is stop him.  Me saying this, however, is easier said than done because I am not the one getting into the ring with the ageless wonder that is Bernard "The Alien" Hopkins on November 8, 2014.
This fight will boil down to whether or not Kovalev can fight past 8 rounds and get a decision over Hopkins vs. Hopkins setting the pace early and cruising to another easy victory over another great up and coming light heavyweight.
Every fiber in my being wants to pick Sergey Kovalev to win this fight, but it is just something about the great Bernard Hopkins that just will not allow me to bet against him, even though Hopkins is about to turn 50 years old in January.
Prediction: Bernard "The Alien" Hopkins by Unanimous Decision
It's not too late. Get your Bernard Hopkins vs. Sergey Kovalev boxing tickets here at PSB!
For more boxing news and articles continue to visit www.potshotboxing.com. If you like this post and other's from Potshot Boxing, feel free to spread the word to your favorite social media channels with your friends and family!! Potshot Boxing – "Boxing news and article bites for all walks of life."