Check out Potshot Boxing's (PSB) Prediction for the upcoming fight between the great Bernard Hopkins and Karo Murat!!
The great Bernard "Executioner" Hopkins, (53-6-2-2 no contest, 32 KO's) will enter Boardwalk Hall in Atlantic City, New Jersey on October 26, 2013 facing another much younger opponent in German Karo Murat, (25-1-1, 15 KO's.)
This should be a good fight, but the real question will be if whether or not this is going to be a good one-sided fight or a good competitive fight. Bernard Hopkins is 48 years old and he is still beating Father Times at the moment, while Karo Murat is a defensive type of fighter as well, but he is strong, and even though he fights behind his jab, he likes to be the aggressor in the fight most of the time which makes him an interesting opponent for Hopkins given that Murat will be willing to put the pressure on Hopkins on October 26 if Hopkins tries to control the fight at a slower pace.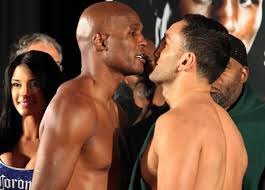 Photo Credit: fightnews.com
During this fight, I expect for Hopkins to start out slow, boxing Murat in search of figuring out how to leave the younger Murat befuddled and confused, just like Hopkins has been able to do to his younger opponents in the past.  I expect for Murat to start out strong and apply pressure to the ageless wonder that is Bernard Hopkins and try to outwork him from round to round, but can Murat get a decision over Hopkins if he succeeds in outworking the great "Executioner."
If Murat can keep his work rate up throughout the fight and force Hopkins to brawl and exert some serious energy, then this can turn into a good competitive fight. However, if Hopkins is not worked hard enough in this fight given that somehow Murat tries to go with the box safe game plan route, then this will be a good one-sided fight for all of us who love B-Hop. In the end, B-Hop should win this fight.
Prediction: Hopkins by 12 round unanimous decision