Here is Potshot Boxing's Prediction for the upcoming IBF/WBA light heavyweight unification title fight between Bernard Hopkins and Beibut Shumenov!!
Well here we go again!!  The DC Armory in Washington, DC could witness boxing history as Bernard "The Alien" Hopkins, (54-6-2-2 no contest, 32 KO's) will once again attempt to mesmerize another young, hungry, and strong opponent who feels they have arrived until they get into the ring with the ageless wonder and get the boxing lesson of their lives.
Beibut Shumenov,(14-1-0, 9 KO's) however, will not be a push over so if the new found Alien wants to laugh at Father Times again, he will definitely need to bring his "A" game because Shumenov is a legitimate threat to the light heavyweight division.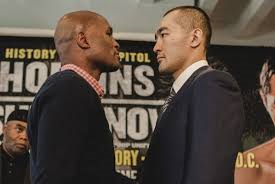 Photo Credit: wbanews.com
Hopkins will be putting up his IBF light heavyweight title; and Shumenov will be putting up his WBA light heavyweight title.
The fight gameplan for anyone who is fighting the great Bernard Hopkins should be pressure, pressure, and more pressure.  I expect for Hopkins to use his jab and other bags of tricks to control the pace of the fight. I expect for Shumenov to start fast and try to zap some of that great stamina that Hopkins have as this will be the only way to win a fight with the ageless wonder.
Hopkins is always in great shape so if Hopkins can simply control the pace of the fight by using his jab and counterpunching Shumenov as he tries to apply pressure then Hopkins should win this fight and once again laugh at Father Times and become the oldest fighter to unify titles in the light heavyweight division.
For Shumenov, again, he just need to try and take away the excellent boxing pace that Hopkins will try and establish and try to wear down Hopkins with a steady fast pace, but just not sure if Shumenov will be successful because I am starting to believe that Hopkins is really an Alien.
In the end, this fight boils down to which pace is successful, Hopkins' pace or Shumenov's pace?
I believe that lightning will strike in Hopkins favor again because Shumenov simply have not been in the ring with a superior boxer like B-Hop.  B-Hop will once again mesmerize another opponent, the boxing world, and last but not least, Father Times.
Prediction: Hopkins by unanimous decision

Loading ...