Here is Potshot Boxing's  prediction for the upcoming WBC heavyweight championship fight between Bermane Stiverne and Chris Arreola!!
When Bermane "B.Ware" Stiverne and Chris "Nightmare" Arreola step into the ring at the Galen Center in Los Angeles, California tonight for the WBC world heavyweight title, it will be the first time in 3 years that a fighter other than one of the Klitschko Brothers that will be crowned heavyweight champion.  The Klitschko Brothers held all of the heavyweight world titles at the same time for the past 3 years, but it took Vitali Klitschko to literally vacate the WBC world heavyweight title to finally bring us to this historic moment.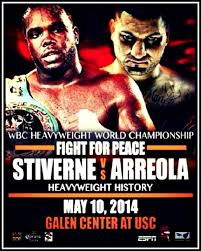 Photo Credit: www.boxnews.com.ua
The rematch between Bermane Stiverve and Chris Arreola may possibly go the same way as the last time except Arreola's nose may not get blown up this time.  Both fighters look to be a great shape and ready to give the boxing fans a real tough, entertaining fight.
I expect for Stiverne to take a page from the first fight with Arreola by using his good jab and crafty footwork to keep the aggressive Arreola at bay; while I expect for Arreola to use his aggressive boxing style to get inside of Stiverne's jab in hopes of landing huge power shots from start to finish.
This fight should be mark as "Stiverne's patience vs. Arreola's aggression."  So who wins?
If Stiverne can use his effective jab and patient boxing style to keep the distance against Arreola and pick his shots when the opportunity arises in the fight, then I expect for Stiverne to walk out the new WBC heavyweight champion.
However, if Arreola can overwhelm the patient Stiverne early in the fight with his aggression and land something huge early, then Arreola will win the WBC heavyweight champion.
In the end, I believe a lot of people are rollin' with Arreola tonight, but I feel that Stiverne's patience boxing style will win the night as Stiverne should take this fight over when the fight goes into the later rounds.
Prediction
Stiverne by Unanimous Decision