Will Bermane Stiverne become the next heavyweight champion of the world?
Well it looks like the infamous promoter Don King has struck up another big time Heavyweight; Bermane "B. Ware" Stiverne.  The Haitian-Canadian heavyweight contender has put the boxing world on notice with a calculated unanimous decision victory over boxing fan favorite American Chris Arreola back in April of this year.
With the win, Stiverne became the number one contender for Vitali Klitchko's WBC heavyweight title.  After Stiverne won the fight against Arreola, he stated that he wants the Klitschkos, but is he really ready?
Stevine has an impressive professional boxing record of 22 wins with 20 of those wins coming by way of knockout, 1 loss and 1 draw to go along with his impressive boxing style.  The way to describe Stiverne's boxing style in my opinion is that he is very patient and takes his time to pick his shots.  He does a great job of working his opponent's body in hopes of breaking his opponents down as the fights against his opponents start to go into deep waters.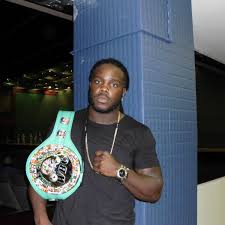 Stiverne with the exception of the 1 draw to American heavyweight Charles Davis have not suffered a defeat since July of 2007 when he loss to yet another American heavyweight Demetrice King, but in saying that, Stiverne has only started fighting top contenders in the last two years and to be honest, he really only fought two heavyweight contenders that the boxing world even knows.
So is Bermane "B. Ware" Stiverne ready?
Let's see. The two top heavyweights that Stiverne squared off against were both American heavyweight contenders; Ray Austin in 2011 where he capture the WBC silver heavyweight title, and his last fight against Chris Arreola and I must say I was impressed with both of those performances by Stiverne.
The only problem that concerns me is that the two guys that Bermane beat convincingly both got destroyed by the Klitschko Brothers when it was their turn to get a shot…or shall I say "no shot" at the heavyweight titles as Wladimir Klitschko completed obliterated Ray Austin in their 2007 heavyweight championship bout as Wladimir knocked out Austin in the second round; and Arreola got pounded in the face so many times in his heavyweight championship fight with big brother Vitali Klitschko that he retired on his stool in the tenth round.
It is like that old analogy that Lennox Lewis made up when he was going to fight Vitali Klitschko, "I'll have one Klitschko for breakfast and the other for lunch," but in this case, it was the Klitschkos having one contender for breakfast and another for lunch.
Whatever the case may be, Bermane is the WBC mandatory challenger for Vitali's WBC heavyweight belt.
Here is what I like about Bermane:
PROS
Again, he comes forward and he applies good effective pressure on his opponents as he moves his head from side to side very well when he is going inside to get into his opponent's kitchen.  Also, he is patient…and the key against the Klitschkos when you fight them is to be patient…and he is going to need that when it is his turn to get his shot at the title because the Klitschkos, as big and strong as they are, fight going backwards a lot doing their fights in my opinion, so Bermane needs to be patient and try to get inside like all of the other contenders try to do.
I also like Bermane because he can counterpunch well and he will have a great chance against the Klitschkos as he does great body work on his opponents and this can bold well for him if he can land good counter body shots to the Klitschkos and take the Klitschkos out of their gameplan which is throw the jab, throw the jab, right cross.  Yeah, sounds like the Fight Night Champion Game on XBOX 360; the Klitschkos are like machines.
Now, here is what I do not like about Bermane:
CONS
Well, there is really not too much I do not like about Bermane.  Eventhough he has not been up against a whole lot of top opposition, the one thing I do believe is that he is a solid heavyweight that is slick enough to give either Klitschko a problem.
Bermane, do however, needs to work on his conditioning because he did fade a little in his last fight against Arreola, so please Bermane, work on that stamina.
CONCLUSION
The reason why I was pitted Bermane against the Klitschkos when he gets his shot at heavyweight supremacy is because he is the mandatory for Vitali's title, but you can never rule out the chance that little brother may be interested in fighting Bermane at some point.  Hey anything can happen and will happen in boxing.
Is Bermane ready?  I am not sure.  Over the years now, there are so many heavyweights that claim they can derail the Klitschko train….please don't even get me started on David Haye…, and all of those heavyweights that said they could derail the train got destroyed.
Bermane "B. Ware" Stiverne, though a little inexperienced given his professional boxing resume, has me excited.  For the first time in a long time I am excited about the heavyweight division because of the Haitian-Canadian and I believe that if he can slip the predictable jab, jab, right cross from the Klitschkos, get inside and do so damage, I feel that 34 year old Stiverne can shock the world because I believe that Stiverne has all of the heavyweight boxing tools to get the job done.
Finally, this is probably Don King's last big thing in boxing so if Bermane cannot stop the Klitschkos then, not only will I feel it will be the end of the road of a great infamous promoter's career in King, but also I feel that nobody will stop the Brothers Klitschko and they will walk off until the sunset happily ever after as the only heavyweight brothers to dominant the heavyweight division and retire together as the undisputed heavyweight champions of the world.