This is a recap of the Austin Trout vs. Daniel Dawson fight that took place on August 22, 2014!!
1 Tip for a flat belly…check out details here!!
What a great fight the boxing world witnessed as Austin "NoDoubt" Trout showed his championship heart when he faced off against the Daniel "The Rock" Dawson. Going into the fight, Trout was a 25 to 1 favorite to win this fight over Daniel Dawson so it was supposed to have been an easy night for Trout who is on the comeback trail right? Well the easy ride for Trout started off shaky in the beginning.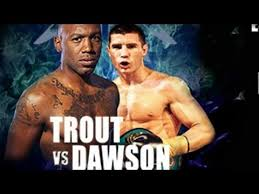 Photo Credit: tvembed.eu
The 1st round of this fight started off great for Trout as he used his good jab to back Dawson up and Trout's southpaw stance seemed to give Dawson some problems. Round 1 would be a great round for Trout!!
In the 2nd round, Trout came out pressing Dawson by using his jab again and actually took over the aggressor role in the fight. I felt that Trout should have been doing what he does best at this point which is sitting in the pocket and boxing well, while catching Dawson with counterpunches as Dawson would try to catch him.
Trout, however, seemed to be pressing Dawson in the 2nd. I am not sure if he was looking for an early knockout or what but Trout was following Dawson around the ring trying to land some hard shots on Dawson. Nevertheless the 2nd round would turn out to be another great round for "NoDoubt" Trout.
1 Tip for a flat belly…check out details here!!
Now the 3rd round is where things would get interesting!! Just like the first 2 rounds, Trout was pressing Dawson and got caught with a shot that shockingly sent Trout to the canvas. Trout would get up off of the canvas and fire away at Dawson. He landed a hard sweeping right hand on Dawson, but Dawson would catch Trout again with a perfect right hand shot that send Trout back to the canvas.
Now, remember, Trout was a 25 to 1 favorite to win this fight so there were a lot of people in Vegas who stood to score a lot of money if Trout did not recover and lose the fight.
Trout would show true championship grit by getting up off of the canvas and fighting his way out of a horrific round 3.
From round 4 until the end of the fight, Trout simply settled down and fought the fight at his pace by doing an effective job of walking down Dawson and just punishing him with combinations to the head and body while countering Dawson when Dawson tried to get his shots in.
Dawson would turn his ankle in the 7th round and Trout took advantage of Dawson by landing some big shots on Dawson. Dawson showed some heart himself in this fight because most fighters would have quit due to a twisted ankle, but Dawson fought like a champion himself as he continued on without complaint.
In the 8th round, Trout continue his aggressive onslaught on Dawson and scored a knockdown on Dawson. Dawson would get up off of the canvas only to be greeted by a vicious attack from Trout once again. Dawson would survive the 8th, but it looked like it was a matter of time before Trout would lay the boom on Dawson and end the fight at any moment!!
Trout would close the show in impressive fashion as he continued to go for the knockout. There were some points in the 9th round where I thought the referee would step in and stop the fight given the punishment that Dawson was taken, but Dawson would survive the 9th round and the final round.
It was simply all Austin "NoDoubt" Trout from the 4th round on as Trout cruised to the 10th round unanimous decision victory!!
1 Tip for a flat belly…check out details here!!
Conclusion
This turned out to be a very intriguing fight. Trout was the odds on favorite, and you have an underdog in Daniel Dawson who truly felt he could walk into the Pechanga Resort & Casino in Temecula, California and shock the boxing world.
Well, Dawson almost shocked the world with those 2 knockdowns on Trout in the 3rd round so he gave Trout a good go. Would I like to see Daniel Dawson fight in the future? Maybe, but Dawson ran into a former world champion in Trout who is destined to climb back to the top of the junior middleweight division.
This fight had everything from suspense to adversity. These are the crown-pleasing fights boxing needs to stay on top of the extreme sports world!!
1 Tip for a flat belly…check out details here!!
For more boxing news and articles continue to visit www.potshotboxing.com. If you like this post and other's from Potshot Boxing, feel free to spread the word to your favorite social media channels with your friends and family!! Potshot Boxing – "Boxing news and article bites for all walks of life."