Cristobal "Nightmare" Arreola said before the fight that if he could not beat Seth "Mayhem" Mitchell tonight that he would consider retirement.  Well…Arreola fought tonight like his career was on the line as Arreola came out and just stormed on Mitchell as he clipped Micthell on that suspect chin that Mitchell possesses and next thing you know, Mitchell was holding on for dear life.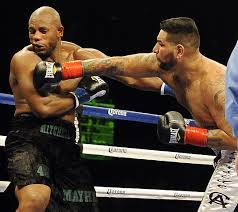 Photo Credit: blog.pe.com
Arreola clipped Mitchell on the chin again in round 1 and Mitchell did not look like he could defend himself when he got up off of the campus so the referee stopped the fight and awarded Arreola with the explosive round 1 technical knockout victory.
Conclusion
After the fight, Arreola said that he is the number two contender for the heavyweight championship now and is ready for another title shot.  Personally, I am not sure if he is ready, but after tonight's performance; and given that he comes into the ring in great shape like he did for this fight, who knows, Arreola may have what it takes to finally obtain heavyweight supremacy.
For more boxing news and articles continue to visit www.potshotboxing.com. If you like this post and other's from Potshot Boxing, feel free to spread the word to your favorite social media channels with your friends and family!! Potshot Boxing – "Boxing news and article bites for all walks of life."