This is a recap of the heavyweight championship fight the took place at the O2 World Arena in Altona, Hamburg, Germany between Wladimir Klitschko and Kubrat Pulev.
What was supposed to have been a legitimate opponent for "Dr. Steelhammer" Wladimir Klitschko turned out to be just boxing calisthenics for Klitschko as he simply made quick work of the undefeated Kubrat "The Cobra" Pulev.
The champion Klitschko came out to an epic style entrance that was simply out of this world.  One of the best ring entrances I have seen in a long time.
Experience Ali's extraordinary story, as a fighter, lover, brother, father. "I Am Ali." Own it today!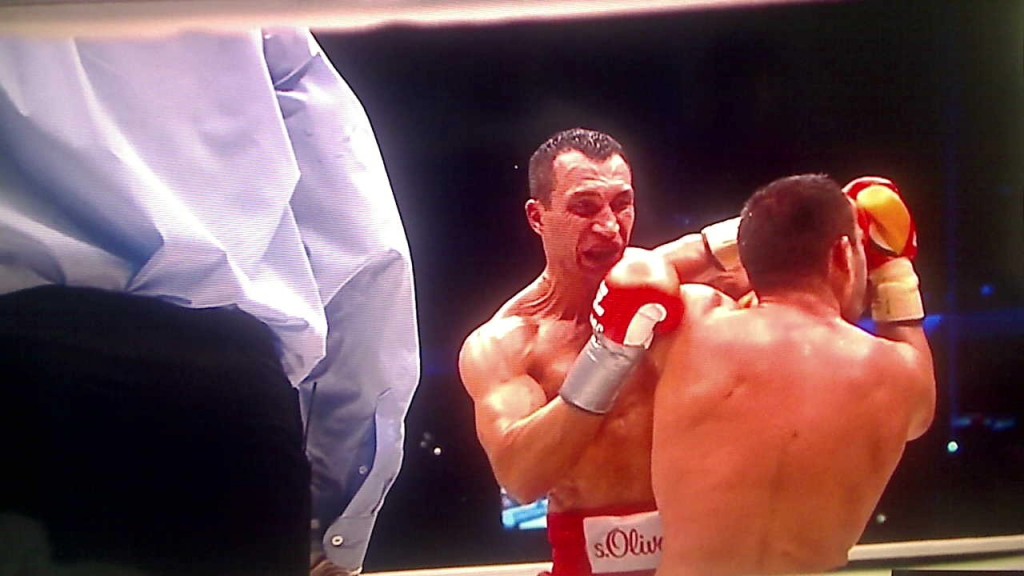 This fight started out with Pulev coming straight out and getting in the face of Klitschko.  Pulev's boxing strategy of standing in front of Klitschko and trading with him would fail him early as he got caught with a vicious left hook that sent him to the canvas 1 minute and 7 seconds into the fight.
Pulev would get up off of the canvas and taunt Klitschko as if to say "you didn't hurt me," only to get knocked straight down again by another Klitschko left hook in the 1st round. Pulev would get up from the left hook and survive the 1st round.
Pulev would continue to utilize his boxing strategy in the 2nd round as he continued to stand in front of Klitschko in hopes of landing something big.  The knock on Klitschko around the boxing world is that he has a suspect chin.  Does he really?  Anyway, Pulev started to use his jab on Klitschko.  There was a lot of holding and clinching in the 2nd.  Pulev also threw some rabbit punches on Klitschko during some of the clinching.
Pre-order your BLACK FRIDAY Specials Samsung TVs before the holiday rush! Order ships 11/23.
The 3rd round was more of the same for Pulev.  He continued to stand in front of Klitschko and jab at him.  Klitschko did a good job in this fight landing his jab on Pulev when Pulev would kind of circle his jab around Klitschko's jab.  Klitschko would land a hard right hand in the 3rd that hurt Pulev.  This would lead to Klitschko landing another brutal left hook that sent Pulev to the canvas for the 3rd time in the fight.
Pulev would get up off of the canvas and complain to referee Tony Weeks that he got pushed!  Look, Pulev can say he got pushed all that he wants, but that vicious left hook would have sent Pulev to the canvas anyway, push or no push!  Pulev would get warned by Tony Weeks for rabbit punching in the 3rd round as well.
In the 4th round, Pulev would comeback with some good right and left hand shots, but Klitschko was bouncing around and utilizing his good jab to keep Pulev at bay.  Pulev would continue to get inside on Klitschko despite being knocked down 3 times.
Round 5 would spell doom for Pulev.  Pulev would get caught by yet another hard right hand by Klitschko.  He would came back with some hard shots of his own that landed on Klitschko.  Both fighters were continuing to stand in front of each other and throw shots as round 5 went on.
Shop Amazon – Countdown to Black Friday! Find deals here.
At this point in the fight, I was thinking to myself, "if these two guys keep going at this hectic pace, somebody is going to get knocked out."  Well, it did not take long for the premonition to become reality as Pulev would land a hard left hand on Klitschko that momentarily got Klitschko's attention.  Pulev's attack on Klitschko would be short-lived because Pulev left himself open for another vicious left hook.
Klitschko would drop Pulev for the final time in this fight as Pulev fell straight down to the canvas.  Referee Tony Weeks would start the count on Pulev, only to simply wave it off as Weeks realize that Pulev had nothing left.
Klitschko was awarded the 5th round knockout victory, thus, he holds on to those WBA(Super), IBF, IBO, WBO, and RING heavyweight straps.  For Pulev, he suffers the 1st professional boxing loss of his career.
Conclusion
Pulev gave it a good go against the champion.  He got knocked down 4 times against Klitschko, but that is simply what you have to do in order to get inside on the long and tall Klitschko.  You have to be willing come straightforward and take punishment from Klitschko in hopes of trying to land big punches in the inside, and that is what a really good fighter in Pulev tried to do in this fight.
Wladimir Klitschko continues to steamroll over everyone in the heavyweight division.  Will the Klitschko Train ever get derailed?  Shannon Briggs is following Wladimir Klitschko all around the world to get a shot at him.  I am not sure why?
Maybe for money because he did not have much success against big brother Vitali Klitschko in a fight where he got dominated, but who knows?  This is a different Klitschko so I say to Wladimir Klitschko go ahead and put Shannon Briggs out of his misery.  Beside, it really would be a fight the boxing world would love to see.
Pre-order your BLACK FRIDAY Specials Samsung TVs before the holiday rush! Order ships 11/23.
For more boxing news and articles continue to visit www.potshotboxing.com. If you like this post and other's from Potshot Boxing, feel free to spread the word to your favorite social media channels with your friends and family!! Potshot Boxing – "Boxing news and article bites for all walks of life."