Floyd "Money" Mayweather, Jr. is set to fight once again and the stage is the same as usual as it is no secret that Mayweather's next fight will be held at The MGM Hotel & Casino in Las Vegas, Nevada.  One more thing that is not a secret is that Mayweather's next fight is scheduled for the month of September: September 13, 2014 to be exact.  What is a secret, however, is that the Pound for Pound King is still undecided on who will share the ring with him for this historic event in September.  So who should Mayweather fight?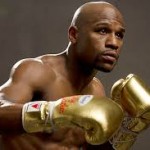 Photo Credit: wbrz.com
Check out Potshot Boxing's latest poll below and vote!!  Also, do not hesitate to leave a comment in the comments section of this post if your choice for Mayweather's next fight is not in the top 4 of who Potshot Boxing thinks Mayweather should fight next.

Loading ...
If you like this post and other post from Potshot Boxing, please feel free to "spread the word" on your favorite social media outlets to your family and friends.