November 19, 2016 turned from being the most anticipated fight of the year to the most controversial.  Andre 'S.O.G.' Ward got rocked in the 2nd round by Sergey 'Krusher' Kovalev, and was sent to the canvas for only the 2nd time in his professional boxing career.
Ward got up from the knockdown, but the fight looked as though it was going to be a clinic for Kovalev.  Kovalev took 3 out of the first 4 rounds, and then Ward showed the heart of a champion.  Most fighters would have packed it in after taking such hard shots by Kovalev.
Check out this cool "Whose Pound 4 Pound" T-Shirt. Grab this shirt today!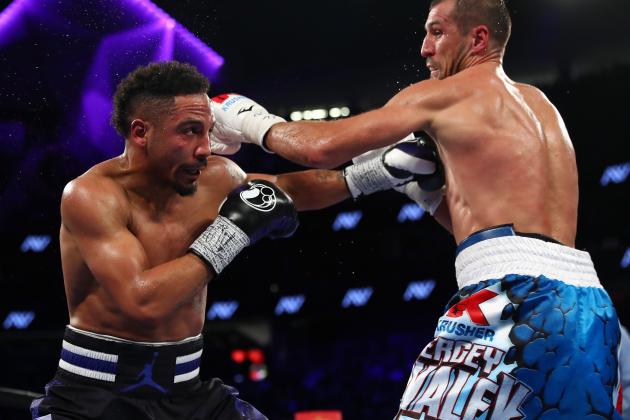 Andre Ward, however, is a different breed of fighter as he started to touch Kovalev with the short left to the body; while mixing in crisp counter shots.  Kovalev kept on pressing through a lot of Ward's offense by landing some crushing power punches of his own.
There was a lot of tying up by and dirty tactics being displayed by both fighters, but Referee Robert Byrd did a good job controlling the 2 fighters.  Ward did a lot of tying up and hitting off the break; while Kovalev did a lot of grabbing Ward's head and squeezing it for dear life.
Coming down the stretch in the fight, Ward had won enough rounds to put himself back in the fight.  The question at the end of the fight, however, was whether or not Ward did enough late in the fight to nullify what Kovalev did to him early in the fight.
The fight went to the judges' scorecards, and all 3 judges scored the fight 114-113 for the winner and New WBA, WBO, and IBF light-heavyweight champion Andre 'S.O.G.' Ward.
Conclusion
The T-Mobile Arena was in an uproar after hearing the decision. It was definitely a mixed reaction.  You can also argue that Andre Ward's face before the decision was read was not a confident one.
 There is more than half of the boxing world who felt that Sergey Kovalev won this light-heavyweight showdown.  Kovalev may have put enough rounds in the bank early to seal the victory, but he was not given the decision.
Kovalev did enough to get a decision, but I also feel that Ward did enough countering to get a decision as well.  The boxing world definitely deserves a rematch between these 2 great fighters to prove once and for all who is the real #1 Pound 4 Pound Fight in the sport.

Loading ...
Check out Potshot Boxing's (PSB) New Official T-Shirt!  Own yours today!
For more boxing news and articles continue to visit www.potshotboxing.com. If you like this post and other's from Potshot Boxing, feel free to subscribe to this boxing website by entering your email address into the floating email form provided on this post! Potshot Boxing – "Boxing news and article bites for all walks of life."