Here is Potshot Boxing's (PSB) Prediction for the upcoming WBA (Super) Super Middleweight championship fight between Andre Ward and Edwin Rodriguez!!
Money tight?  Get the cash you need now!
The undefeated number 2 pound for pound king Andre "S.O.G." Ward, (26-0-0, 14 KO's) will make his return to the ring on November 16, 2013; and put his WBA and Ring super middleweight titles on the line against a much gamed fighter in challenger Edwin "La Bomba" Rodriguez, (24-0-0, 16 KO's,) which is another undefeated fighter.
This is a very intriguing fight because a lot of the boxing world is wondering whether or not Ward picked the wrong opponent for his return fight.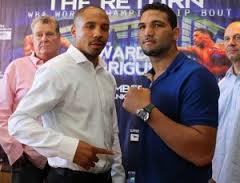 Photo Credit: wbanews.com
Rodriguez knocked out his last opponent in 1 round so he will be heading into the fight in November with a lot of confidence and he will not be entering the Citizens Business Bank Arena to collect a paycheck; he will be coming to take Ward's WBA (Super) and Ring super middleweight titles.
The thing I love about Ward is that he can box his opponents on the inside and out; and he can brawl with his opponents if he needs to and I expect for Ward to use all of his tricks in this fight and shake off the ring rust in the process.
This can be a dangerous fight for Ward if Rodriguez tries to pressure Ward during the early rounds of this fight and I expect Rodriguez to do just that by using his jab to test the ring rust of Ward to see how Ward will handle the pressure from Rodriguez.
So who wins?  In the end, ring rust or not, Ward has not lost a fight since he was a young teenager.  Ward just knows how to win and I expect for him to deal with the onslaught of Rodriguez and in the process break down Rodriguez late in this fight.  I do not think that Ward will stop Rodriguez, but Ward will find a way to hold on to his number 2 pound for pound spot.
Prediction: Ward by unanimous decision
Money tight?  Get the cash you need now!
For more boxing news and articles continue to visit www.potshotboxing.com. If you like this post and other's from Potshot Boxing, feel free to spread the word to your favorite social media channels with your friends and family!! Potshot Boxing – "Boxing news and article bites for all walks of life."