Here is a recap of the WBA (Super) Super Middleweight fight between Andre Ward and Edwin Rodriguez!!
BeeZID clearance auctions!  Join over 400,000 winners today!
Wow!!  What a great fight between Ward and Rodriguez!! I know that Andre "S.O.G" Ward is the 2nd best pound for pound fighters in the world, but Man, with all that happened as far as facing a bigger guy who did not make weight in Edwin "La Bomba" Rodriguez, Ward simply dominated this fight from the opening bell and throughout the fight.
Rodriguez started out the fight by trying to use rough house tactics to lure Ward into a rough and gully fight, but Ward was having none of that as he used his speed, jab, and counterpunching skills the whole night to keep Rodriguez off balance, confused, and wanting to simply go home and get away from the soon to be best fighter in the world in Ward.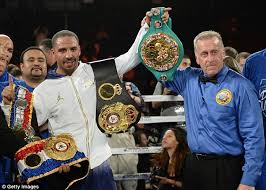 Photo Credit: dailymail.co.uk
In the fourth round, Rodriguez's dirty tactics got him and Andre Ward in trouble with the referee as the two fighters were once again tangled up and dirtying each other up within the tangle.  As a result, the referee stepped in and broke the fighters up, deducted 2 points from each fighter, and threaten both fighters that if they did not stop the dirty tactics, not only was he going to disqualify the fighters, but he was going to recommend that the fighters do not get paid for the fight.
When the referee finished warning the two fighters, the fight went a lot smoother given that the referee threatened to take their purses.
From the 5th round and beyond Ward dealt with a little more roughing from Rodriguez, but Ward just destroyed Rodriguez with his superior speed and jabs that were super accurate and sharp. Ward beat Rodriguez to the head and body so bad that I thought Rodriguez would go back to his corner and quit.
Get your Title Boxing Hang 'Em Up T-Shirt today!
I give Rodriguez credit for hanging in there and taking that beating from Ward because he could have quit, but Rodriguez toughed it out and was still try to land a big shot on Ward; however, his punches were just too wide and Ward could see those punches coming from a mile away.
Ward continued to snap Rodriguez's head back with those accurate jabs en route to an easy 12 round unanimous shut out decision victory.  Ward's WBA and RING titles were not on the line last night because Rodriguez did not make weight.
Conclusion
This was a great one-sided fight!!  It had a lot of action, a lot of drama, and a lot of superior boxing artistry which was displayed by Ward.
Ward beat Rodriguez easy and this is a fighter in Rodriguez that I thought had a chance against Ward who was coming off of a long layoff, but Ward showed us all that he is ready to be the best pound for pound fighter in the world.
I love Andre Ward as a fighter because not only is he tough, Ward always displays great ring generalship as he stayed patience for most of the fight last night as Rodriguez tried to get up under his skin with those dirty tactics.
I cannot think of any fighter right now who can challenge Ward in the 168 pound division.  Some suggest Gennady Golovkin in a couple of years to move up from 160 to challenge Ward, but personally, I do not think that Golovkin have what it takes to beat Ward.  Sure Golovkin definitely has power, but Golovkin does get hit often in his fights so I do not think that he will be elusive enough to deal with the onslaught of Andre Ward.
I cannot wait for Andre "S.O.G." Ward to get back into the ring!!
Get the cash you need first! Click here.
For more boxing news and articles continue to visit www.potshotboxing.com. If you like this post and other's from Potshot Boxing, feel free to spread the word to your favorite social media channels with your friends and family!! Potshot Boxing – "Boxing news and article bites for all walks of life."