Last night, the Oracle Arena in Oakland, California laid witnessed to the return of their hometown son Andre 'S.O.G.' Ward.  Standing in Ward's way was an undefeated true light heavyweight in Sullivan Barrera.  Heading into the fight, the boxing world did not know how Andre Ward's talents would translate to the light heavyweight division.
There were even some boxing fans who felt Sullivan Barrera had a huge chance to upset one of the best fighters in the sport that is Andre Ward.  Well, Ward dispelled all of that nonsense as he shook off the ring rust in the early rounds of this fight, and simply did not miss a beat after the long layoff as he toyed with Barrera in the later rounds of this fight.
Throwdown Fantasy! Fantasy Boxing for real cash! Get FREE points when you sign up! Sign up here.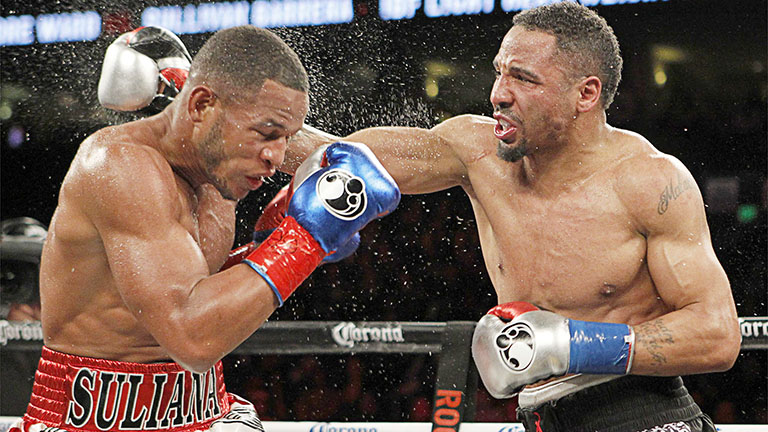 Ward took control right from the start as he kept the fight in the middle of the ring and flicked that stiff left jab out that landed on Barrera's head and body.  Barrera did not do a lot in the 1st round as it looked as though he had a feeling that he was in with a fighter whose style he has never seen before.
Ward continued to use the jab in the 2nd round to shake off ring rust.  Barrera used his jab as well to try to get inside of Ward's jab in hopes of land something big.  As round 2 continued, Barrera landed a hard right hand on Ward that got his attention. Ward responded by landing a big left hook on Barrera as round 2 was coming to an end.
The right hand that Ward took from Barrera woke him up as he started to heat up in the 3rd round with some crisp jabs and sneaky hooks to the body.  Ward caught Barrera with a hard left hook that sent Barrera to the canvas.  Barrera would survive the counter left hook, but Ward continued to control the pace with the jab and good distance.
In the 4th round, Ward started to target Barrera's body with jabs and straight shots.  Barrera tried to move forward but he just was not doing enough to get Ward's attention.  This fight had gotten to the point whereas Barrera was getting countered every time he threw his shot.
Lose weight, have fun, and be healthy! Get started in 3 easy steps!
Ward put everything together in round 5 as he started to land jab, straights, and hooks on Barrera.  Barrera managed to pin Ward against the ropes, but Ward was too slick for him in the corner as he escaped Barrera's bully style attack and landed a chopping left hook on Barrera's beard.  Ward tattooed Barrera with a left and right hook as round 5 came to an end.
This fight was all Andre Ward.  In round 6, Ward decided to blitz Barrera with straight left and right hand shots.  Now, Barrera did land some good body shots on Ward in the 6th, but Ward continued to pepper him with crisp clean straight shots.  As the round continued, Ward mix in a hard left uppercut that kept Barrera with a look of discouragement on his face.  As round 6 came to end, Ward clinched the round by doubling up on the jab that got the Oracle Arena boxing crowd excited.
In round 7, Ward toyed with Barrera as he laid on the ropes and allowed Barrera to come in and try to land something big on him.  Barrera moved in on Ward, but could not land anything significant on Ward.  As round 7 came to an end, Ward landed another mean left hook on Barrera to cement yet another round.
The left hooks by Ward continued in the 8th round as Ward stuck a left hook on Barrera's chest.  Ward, however, connected with a low blow on Barrera and the referee took a point away from Ward for the foul.  Ward still got the best of Barrera round 8 so most boxing experts scored 8th as a 9-9 round.
Ward continued his dominance in the 9th as he landed a quick left body to head combo on Barrera.  Barrera's discouragement caused him to result to some rough house tactics on Ward, but the thing I love about Ward is that he can get mean when he needs to. Ward responded to Barrera's roughness by patiently popping Barrera with that blistering left jab, and doing some bullying of his own as he used his shoulder to move Barrera around.
As round 9 was coming to an end, Ward landed a solid counter check left hook on Barrera that sent Barrera staggering backwards.  In round 10, the 2 fighters clashed heads and Ward suffered a cut over his left eye.  Barrera continued to move forward behind his jab and tried to land some hard power shots at Ward, but Ward use his great defense to ricochet Barrera's power shots off his gloves.
Who will win the NBA Finals? Vote here and receive a $500 Visa Gift Card!
There was some good action in the 11th as Ward connected with a hard right hand on Barrera.  Barrera came back with a right hand of his own on Ward, but Ward punctuated another round with another perfect right hand shot.  Heading into round 12, both men showed great stamina as neither fight looked winded.
In round 12, Ward just cruised by using his defensive skills to counter Barrera at every turn in the 12th.  This fight would go to the judges' scorecards and all 3 judges scored the bout for the winner by 12th round unanimous decision…. Andre 'S.O.G.' Ward.
Conclusion
Andre Ward started out the fight trying to find his way back around the ring. Well it did take him long to get his rhythm back as he showed the boxing world why he is one of the best, if not the best fighter in the world.
After the fight, Andre Ward gave himself a "B-" as he stated that he still needed to work on some things such as getting his timing down a little bit more, etc. With that said, Boxing World, it looks as though we are going to have to wait for Andre Ward to step into the ring the Sergey 'Krusher' Kovalev.
Andre Ward's near future will most likely be him fighting another light heavyweight to get his feet wet again before facing the destroyer that is Sergey Kovalev. Cannot wait to see Potshot Boxing's (PSB) chosen Pound 4 Pound King Andre 'S.O.G.' Ward fight again.

Loading ...
Get a loan quick, easy, and secure.  Receive up to $2,500 in your account as quickly as tomorrow!
For more boxing news and articles continue to visit www.potshotboxing.com. If you like this post and other's from Potshot Boxing, feel free to subscribe to this boxing website by entering your email address into the floating email form provided on this post! Potshot Boxing – "Boxing news and article bites for all walks of life."