So what's going on around the boxing rumorville? Well the big elephant in the room is the talk around the boxing world that Floyd "Money" Mayweather, Jr.'s September 12, 2015 opponent is Andre "The Beast" Berto.
Like Doritos? Get a Doritos Sample here!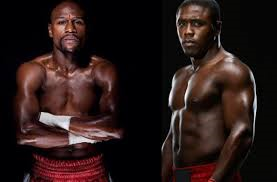 Boxing World, I do not know how this is going to fly as far as Floyd Mayweather, Jr.'s boxing legacy goes, but if Berto truly is his next opponent, then it should be on free TV because not a lot of people will buy the pay-pay-view.
Furthermore, Andre Berto does not even make good business sense in my opinion so why should Berto get the golden ticket to fight Mayweather over some of the other welterweights that are more deserving? So what do you think Boxing World? If Mayweather do indeed fight Andre Berto on September 12, 2015, will this put a stain on his boxing legacy?
Check out Potshot Boxing's (PSB) latest boxing poll at the bottom of this post and vote on whether or not Berto will put a stain on Mayweather's legacy. Also, feel free to leave a comment at the bottom of this post giving your take on a possible showdown between Floyd Mayweather, Jr. and Andre Berto.

Loading ...
Get 2015 NFL Sunday Ticket included at no extra charge with DirecTV and a FREE Genie® HD DVR Upgrade!
For more boxing news and articles continue to visit www.potshotboxing.com. If you like this post and other's from Potshot Boxing, feel free to subscribe to this boxing website by entering your email address into the floating email form provided on this post! Potshot Boxing – "Boxing news and article bites for all walks of life."