Here is a recap of the Demetrius Andrade vs. Vanes Martirosyan!!
Join Amazon Prime – Watch Over 40,000 Movies & TV Shows Anytime – Start Free Trial Now
Demetrius Andrade used his pure boxing style to overwhelm Vanes Martirosyan round after round.  Martirosyan scored a first round knockdown on Andrade, but Andrade got up from the knockout and simply outboxed Martirosyan to a 10-9 round on my scorecard.
Martirosyan made a huge mistake in this fight as he kept backing up from the taller fighter in Andrade as the great Roy Jones, Jr. at ringside so eloquently put it; and Andrade took advantage of it as he kept hitting Martirosyan as he backed up.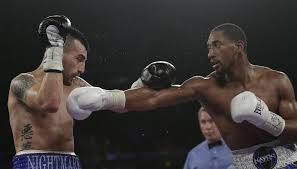 Photo Credit: sports.yahoo.com
There is nothing really pretty about this fight except for the boxing of Andrade, although, Martirosyan made it a fight in the middle rounds as he pressed Andrade a little bit.  This fight turned out not to be as sexy as a lot of the boxing world thought it was going to turn out to be.  In the end, Andrade cruised to a 12 round split decision victory which should have been a unanimous decision victory in my opinion.
Andrade was awarded the vacant WBO junior middleweight title.
Conclusion
Andrade has some good boxing skills.  He is a pure boxer and time will tell how this up and coming fighter will do in the future once he runs into a real pressure fighter.
Join Amazon Prime – Watch Over 40,000 Movies & TV Shows Anytime – Start Free Trial Now
For more boxing news and articles continue to visit www.potshotboxing.com. If you like this post and other's from Potshot Boxing, feel free to spread the word to your favorite social media channels with your friends and family!! Potshot Boxing – "Boxing news and article bites for all walks of life."