Check out which fight Potshot Boxing (PSB) has picked as the fight of the month for February of 2015!
Well the month of February surely did not showcase a lot of top notch action as the boxing year 2015 is just getting started.  Sure there is always a fight going on at all times; whether it is here in America or in the world, but the top fighters really did not put on crowd-pleasing performances other than one fighter.  His name is Gennady "GGG" Golovkin.
Gennady's fight with Martin Murray is well worth being named Potshot Boxing's (PSB) fight of the month for 2015, and even though it was a one-sided fight, to be honest, there really wasn't any stiff competition to choose from.  Nevertheless, Gennady Golovkin walked through yet another really good middleweight in Martin Murray to further excite the boxing world regarding his rise in the sport.
Gaming jobs online.  Make $500 to $3,500 dollars a month playing video games!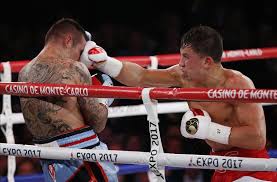 GGG captivated the crowd in Monte Carlo with his cerebral attack to the body and head of Martin Murray on February 21, 2015.  In round 1, Golovkin started off the fight by stalking Murray right from the start as he used his aggression to back Murray up and land hard right hand shots to Murray's head and body.
Murray had success early in the 1st by staying away from the ropes and boxing Golovkin, but Golovkin's sheer will and determination proved to be overwhelming for him.  Murray would get an overhand right to land on Golovkin in the 2nd round and also started to do a great job tying up Golovkin when he tried to back him up against the ropes. Murray would close the 2nd round by using good defense and landing hard shots to the body of Golovkin which in my eyes won the round for Murray.
Murray's success would be short lived though as Golovkin's aggressive stalking start to pay dividends for him in the 3rd round as he backed Murray up against the ropes and landed some hard power shots on Murray.  Later in the 3rd, GGG would later land a crushing right cross that dazed Murray momentarily.
Golovkin's bone-crushing shots on Murray in that 3rd round proved to be a huge round for Golovkin. Golovkin's destruction of Murray would continue from the 4th round on as Golovkin would continue to walk through Murray by landing vicious shots to the head and body of Murray.  As the 4th round continued, Golovkin would catch Murray with a huge right hook to the body that sent Murray to the canvas.
Old School New Body. 5 Steps To Looking 10 Years Younger!
Golovkin's vicious body punching would cause Murray to go down again in the 4th, but Murray would bravely get up and survive the nightmare of a 4th round that he just suffered.  The fight would start to get more brutal for Murray as Golovkin continued his aggressive body attack on Murray.
Bleeding from the nose and all, Murray showed big heart as he would continue to fight on by taking the beating that was being inflicted on him by Golovkin.  Golovkin landed hard hooks and uppercuts on Murray in the middle rounds that would slowly, but surely wear down Murray.  Murray tried to land some hard shots on his own on Golovkin, but Golovkin just kept walking through Murray by cracking him with more savage hooks and uppercuts.
In the 8th round, Golovkin's brutal power punching would send Murray to the canvas, but the referee would rule the knockdown a slip.  Golovkin continued to punish Murray in the 8th round.  It got so brutal that I felt the referee should have stopped the fight in the 8th.
The fight would go on, however, and Golovkin just punished Murray into submission with unbelievable power shots.  Golovkin would score one last knockdown on Murray in the 10th as he caught Murray with a vicious right hand shot.  Murray would once again beat the count and courageously fight on and survive the 10th.
The fight would finally end in the 11th round, as Murray continued to take a massive beating from Golovkin.  Golovkin would catch Murray with another vicious barrage of punches that left the referee no choice but to finally take the fight out of Murray's hand and stop the fight.
Gennady "GGG" Golovkin was awarded the 11th round TKO victory over Murray, and with the win, Golovkin retained his WBA (Super), WBC interim, and IBO middleweight titles, and he captured Murray's WBC Silver middleweight.
Conclusion
Golovkin stock continues to rise and rise some more in the sport of Boxing.  He is clearly walking through some very good middleweights so I feel it's time for all of the middleweights in the division to stop running and face this Kazakh Warrior that is Gennady "GGG" Golovkin.
Golovkin is starting to improve his boxing skills so he is only getting better and better as he continue to get good rounds in.  No matter whether or not it's 11 brutal rounds for his opponent, nevertheless, they are rounds that are preparing Golovkin for the bigger names in the middleweight division.
I still do not think that Golovkin is ready for a potential showdown with Andre Ward at super middleweight, but Gennady "GGG" Golovkin has all of the tools to dominant the middleweight division. I am really looking forward to seeing the heights Gennady "GGG" Golovkin will conquer in the future.
Gaming jobs online.  Make $500 to $3,500 dollars a month playing video games!
For more boxing news and articles continue to visit www.potshotboxing.com. If you like this post and other's from Potshot Boxing, feel free to subscribe to this boxing website by entering your email address into the floating email form provided on this post! Potshot Boxing – "Boxing news and article bites for all walks of life."