Here is Potshot Boxing's in-depth recap of the Amir Khan vs. Chris Algieri WBC Silver welterweight title fight.
Well in my boxing poll video on YouTube regarding this fight between Amir Khan and Chris Algieri, I stated that this fight would not be a blockbuster type of fight.  I was wrong.  Not only was this a blockbuster fight, but it had all of the boxing intrigue such as excitement, surprises, and high drama.
When I made my statement last night, I did not figure in the great trainers that were in the corners of these 2 fighters.  Amir Khan's trainer Virgil Hunter is one of best boxing trainers in the game, but across the ring was Chris Algieri's new trainer John David Jackson who is going to be one of the best trainers in the world in due time.
What Virgil Hunter and Amir Khan did not know going into the fight is what almost lost Khan the fight in my opinion.  John David Jackson gave Chris Algieri the perfect blueprint to beating Amir Khan and he almost pulled it off.  Who knew that Chris Algieri would switch his boxer style and take on the aggressor role in this fight?
That just shows you the sheer brilliance of John David Jackson breaking down tape and putting his fighter in the best position to win a fight.  There were a lot of Khan boxing fans that pack the Barclays Center in Brooklyn, New York for this fight, but at the end of the night Algieri transformed a lot of them with his sheer heart and determination.
Want a VISA gift card. Find out how to win one here!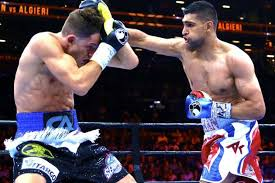 In round 1, Algieri came out right from the start trying to cut the ring off by using his jab to set up that hard right hand on Amir Khan.  Khan also started the fight by moving forward behind his jab and invited Algieri to get inside where he would have success landed those laser quick hands to Algieri's dome.
Early on, Khan was controlling the fight with his unbelievable hand speed and it look as though Khan was going to win this fight easy right?
Well in the 2nd round, Algieri continued to press forward and disrupt the rhythm of Khan as he started to back Khan up and rip him to the body.  Algieri's surprising aggression would cause Khan to clinch some when the 2 fighters were in the inside as John David Jackson's boxing game plan was started to take control of this fight.
As the round continued, Khan would continue to circle Algieri and try to counter the aggressive Algieri with laser fast punching.  Algieri, however, would continue to move forward behind his left jab, successfully cut off the ring on Khan, and bang him against the ropes every chance he got. Algieri clearly won round 2 in my opinion due to his effective aggressiveness.
Khan took back over the fight in the 3rd round with good jabbing and counterpunching on Algieri. Algieri, however, was relentless as he kept jumping inside of Khan's jab with a left jab of his own.  The feverish pace that Algieri kept Khan on his bicycle all night as Khan was force land one shot at a time on Algieri just to try and stave off the offense of Algieri.
Algieri threw a lot of punches in the 3rd round, but Khan did a good job moving and slipping a lot of those punches while countering Algieri on the inside.
Get high quality online access to all of your favorite movies in HD without any limits. Try it FREE for 7days!
In round 4, Khan started to move forward again behind the jab and landed some quick combinations on Algieri.  Algieri would not back down as he continued to bring the fight to Khan by making the fight as rough as he could by getting inside and bullying Khan with his effective aggression.
Algieri caught Khan with at least 3 big right hands in that 4th round that punctuated the round for him.  Khan did a good job getting off punches when Algieri covered up in the 4th, but Algieri was the busier man in the ring in round 4, and he landed some nice body shots and right hands to Khan in that round.
Round 5 would be more of the same as Algieri continued the press forward in hopes of wearing down Amir Khan.   Khan would hit the canvas with a little over a minute to go in the 5th, but the referee ruled it a slip.  Algieri would test to see if Khan was really hurt by ripping Khan's body and backing Khan up with good clean aggression.
Khan did have his moments in round 5 as well by controlling the middle of the ring when the 2 fighters were exchanging power shots, but I felt Algieri won the 5th round.  Now, the 5th round was one of those rounds that could have went either way so Boxing World, those of you who thought Algieri won the fight like I did cannot be mad with the decision given how some of the rounds were close like the 5th round.
Khan got back to being the boss in the 6th by keeping the fight in the middle of the ring as he clearly got out of the way of Algieri's big right hand and slipped his left jab.  Khan would turn Algieri in the 6th round and use his elusiveness to continue to catch Algieri with clean hard jabs, combinations and counterpunches which excited the Barclays Center crowd.
Algieri would continue to walk though Khan's good boxing, but Khan won the 6th round easily in my opinion with good old fashion ring generalship.
In round 7, this seesaw battle would fall back into the hands of Algieri as he once again was able to back Khan up and impose his unbelievable pressure on Khan by pinning him on the ropes and roughing him up.  Khan tried to get the fight back into the middle of the ring, but Algieri's attack could not be denied in the 7th.
Round 8 would be more of the same of Algieri's stalking of Khan.  Algieri would catch Khan with a big right hand early on in round 8 that Khan seemed to take well.  Algieri took control of the 8th round with a solid left jab and big right hands on Khan that scored clearly for him.  Algieri boxed more in round 8 and he looked pretty good doing it!
Algieri's pressure would cause Khan to resort to dirty tactics like putting Algieri in a stiff headlock to try and zap some of Algieri's unfailing stamina.  Algieri did a great job in the 8th disrupting Khan's rhythm by landing multiple right hands as Khan looked as though he was tiring down the stretch.
For boxing tickets to the latest big fights get your tickets here at PSB!
Algieri did some good boxing again in round 9 as he started to slip Khan's jab by moving his head more and landing some good left jabs and right hands on Khan that backed Khan up.  Khan would try to jump inside of Algieri's offense and land some combinations, but Algieri covered up well and timed Khan's punches.
Khan closed the round by landing some good body punches on Algieri, but once again Algieri's aggression in my opinion won the 9th round.  Now before round 10 began, Khan's trainer Virgil Hunter was concerned about Khan's performance and he lit into Khan by pointing out to Khan that Algieri is coming right to him so basically don't run, but stand in and take advantage of Algieri's aggressiveness.
Again, this fight showcased a great chess match between 2 surefire hall of fame trainers one day in Virgil Hunter and John David Jackson.  Algieri's trainer John David Jackson continued to encourage Algieri to move forward and Virgil Hunter encouraged Khan not to run, but to stand and fight.  So which boxing game plan would win in the championship rounds of this fight?
Round 10 was beautiful because both fighters listened to their corner.  Algieri would continue to move forward behind his left jab and pressure Khan, while Khan would answer the "Virgil Hunter Bell" by not running, but standing in the middle of the ring and fighting.
Khan would land a good one, two, left combination to Algieri's head and body that got Algieri's attention.  Khan would later catch Algieri was a vicious right uppercut followed by a right hook as the Virgil Hunter boxing game plan started to win the 10th round.  Algieri, however, would continue to move forward.  As the 10th round came down the stretch, Khan would punctuate the round with a big left hook on Algieri, but Algieri would not waver.
Khan would continue fighting in the middle of the ring in round 11 as he started to make Algieri miss those hard left jabs and right hooks again.  Khan continued to stick and move well, but would get caught once again by a big right hand by Algieri.  Khan showed grit by taking the punch well and sticking to the game plan of controlling the pace in the ring and simply outfoxed Algieri en route to winning the 11th round.
Now heading into the last round of this fight, I actually had the fight even and I felt the winner of round 12 would be the winner of this fight.  Well in the final round, Algieri would draw first blood by landing a nice left hand shot on Khan that excited the boxing crowd.
Khan tried to use his jab down the stretch to keep Algieri at bay, but Algieri was simply unwavering as he continued to press forward.  As round 12 continued, Algieri would land another big left hand shot on Khan which caused Khan to clinch him.  The referee broke the 2 fighters up and the round continued.
Khan threw some good jabs in the 12th, but Algieri's aggression would rear its beautiful head once again as he used his left jab to get inside on Khan and inflict more rough house punishment.  Algieri closed the show chasing Khan around the ring in hopes of landing that big right hand again, but Khan moved out of harm's way and was able to fight off the aggressive Algieri.
Take this survey and get a pizza from Pizza Hut, Papa Johns, or Dominos! Enter here.
This surprisingly great fight ended and was now in the judges' hands.  Judge Don Ackerman scored the fight 115-113, and judges' Joseph Pasquale and Beniot Roussel scored the fight 117-111 all for the winner and still the WBC Silver welterweight champion of the world Amir "King" Khan.
Conclusion
This fight turned out to be a real good fight. I still believe Algieri should have gotten the nod in this fight given his effective aggressiveness, but nevertheless, there were a lot of close rounds in this fight so I am okay with Khan getting the decision.
Virgil Hunter and Amir Khan did a great job adjusting the game plan and adapting to Algieri's surprising aggression. Now I know Algieri is not a big puncher, but I like how his trainer John David Jackson turned him into a terminator for this fight.
Amir Khan got hurt by Algieri several times in this fight, and again, Algieri is not a big puncher, so moving forward I am not sure if Khan is ready for Floyd Mayweather, Jr. or not. Now from a hype standpoint, Khan is the right Huckleberry for Mayweather this September as Mayweather would probably make the most money with Khan. (You can debate a catch weight fight with Gennady "GGG" Golovkin)
As for Chris Algieri, I am sure a lot of big named fighters in the welterweight division have him on their radars given his performance on Friday, May 29, 2015. I hope that this new Chris Algieri who gave Amir Khan all he could handle will continue to be aggressive and trust his boxing abilities. He may have made a life-changing decision in his boxing career by hiring the services of a great trainer like John David Jackson.
So the Premier Boxing Champions (PBC) Series put on another great show yet again! I hope that these great nationally televised fights will get the attention of the general public and capture new boxing fans in the future.

Loading ...
Check out Potshot Boxing's (PSB) Store for cool t-shirts, hoodies, hats, cups, mugs, and other great merchandise!
For more boxing news and articles continue to visit www.potshotboxing.com. If you like this post and other's from Potshot Boxing, feel free to subscribe to this boxing website by entering your email address into the floating email form provided on this post! Potshot Boxing – "Boxing news and article bites for all walks of life."