This fight between Alfonso Gomez and Yoshihiro Kamegai was dubbed a classic "phone booth" fight by the boxing world before these 2 warriors step into the ring with each other. Kamegai has no defense and Gomez loves to come forward which made this fight a recipe for slugfest city by the whole boxing world heading in.
Well, Gomez and Kamegai did not disappoint the boxing world as they indeed treated the Fantasy Springs Casino boxing crowd to an all out phone booth war!
Get your Mayweather vs. Pacquiao Poster T-Shirt Here at PSB!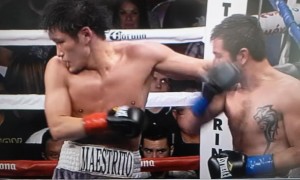 In the 1st round, Gomez started out by using a good solid left jab that landed on Kamegai's head and stomach. Kamegai started off the fight by moving forward and using a high guard to try and get inside and land some solid body shots of his own. As the round went on, Gomez started to double and triple up on the jab while mixing in some good right hooks and occasional uppercuts on Kamegai. Kamegai simply did not protect himself enough to get out of the way of Gomez's brutal attack in this fight.
In the 2nd round, Kamegai continued to move forward and pressure Gomez, but he just got peppered by Gomez's counterpunches and combinations. Gomez did a great job in this fight smothering Kamegai's attack and getting off his explosive combinations without letting Kamegai get off a lot of his shots.
The 3rd round was more of the same as Gomez timed Kamegai's aggressive offense with effective counterpunching. Kamegai had some moments in the3rd when he backed Gomez against the ropes and landed some hard shots to the body, but Kamegai's heavy bag boxing style allowed Gomez to tee off on him the entire night. Gomez could simply see every punch that Kamegai was throwing.
In the 4th, Kamegai continued to walk down Gomez and landed some really good body shots on Gomez. The pressure on Kamegai was starting to pay off in this fight as Kamegai got inside and landed a huge right hook on Gomez. The attack from Kamegai started to frustrate Gomez a little as he head butted Kamegai to create space to throw punches. The head butt by Gomez would cost him a point deduction from the referee because Gomez's head butt was so obvious that it snapped Kamegai's head back.
After the point deduction, the 2 fighters would close the 4th round by landing huge shots on each other with Gomez getting the better of the exchanges. This, however, was a good round for Kamegai.
Gomez would continue to land good left jabs and power punches on Kamegai. Kamegai just kept taking everything that Gomez dished out and stalked Gomez some more. Kamegai displayed unbelievable will as he made Gomez work every second of every round from start to finish in this fight.
Rounds 5 and 6 were dominated by Gomez's easy counterpunching and jabs on Kamegai. Kamegai's ineffective pressure allowed Gomez to potshot Kamegai with punches that were super easy for the whole world to see. Kamegai just does not stop punching even when he is getting clobbered with brutal shots, which is why the boxing world loves this punching bag that is Yoshihiro Kamegai.
In round 7, Kamegai landed a good right hand shot on Gomez and continued to move forward in hopes of wearing down Gomez with more pressure to offset the easy counterpunching by Gomez. Kamegai would continue to work Gomez's body, but Gomez did a great job timing Kamegai and landing hard jabs and combinations on the inside.
The 8th round would prove, however, to be a learning experience for the boxing world and that is sometimes even ineffective pressure can soon wear down an opponent. Kamegai's ineffective pressure started to wear down Gomez as Kamegai landed a hard left hand that stunned Gomez. Kamegai would follow up the left hand with another crushing left that sent Gomez back into the ropes. Kamegai would continue his assault on Gomez against the ropes as he landed more clean shots on Gomez. Gomez would fight off the ropes and land some brutal shots of his own on Kamegai, but Kamegai continued to move forward, back Gomez against the ropes and whack him with hard shots to the head and body.
Gomez looked exhausted as it seems as though Kamegai's pressure may have wore him down, but Gomez would rally back with a big right uppercut that would back up Kamegai momentarily. Kamegai would shake off the right uppercut from Gomez and move forward again into Gomez's wheelhouse to give and take some more punishment. Kamegai closed the 8th round with some good left jabs and body punching to cement the 8th round in his favor. This is by far one of the best rounds of boxing in 2015!
After the 8th, Gomez walked back to his corner very slowly as he just looked gassed. In the 9th round, Kamegai move forward again and landed a good left hook on Gomez followed by some good body shots. Gomez would wisely clinch Kamegai in hopes of getting his wind back, but as the 9th round went on, Kamegai kept coming. With just a minute into the 9th round, Gomez looked extremely gassed as he held on to Kamegai for dear life as Kamegai continued to rip Gomez's body.
Just when I though Gomez was all tired out, Gomez would step up and fight Kamegai man to man and produced an even better action-packed round than the 8th! These 2 fighters would trade gut wrenching shots on each other down the stretch that would make the boxing world proud. The Fantasy Springs Casino boxing crowd was definitely treated to another boxing round of the year candidate type of round!
In the final round, Gomez wisely used the ring to get out of the way of Kamegai's pressure as he boxed Kamegai and smartly tied up Kamegai when the 2 were on the inside. Gomez was clearly tired in the 12th, but he did a great job being smart and moving to let the 3 minute round evaporate down to 0. Kamegai would land 2 really good left hands on Gomez in the last 20 seconds of the fight, but Gomez's beard stood up to the punishment and Gomez avoided the rest of Kamegai's offense by wisely ducking and holding as the fight ended.
This 10 round fight would go the judges' scorecards and all 3 scorecards would read 98-91 for the winner of this classic phone booth fight, Alfonso Gomez!
Conclusion
This fight between Alfonso Gomez and Yoshihiro Kamegai lived up to all the hype! This is what the whole world expected out of these 2 all-action warriors and they did not disappoint. Yoshihiro Kamegai is going to be tough for whoever he faces because even though a fighter will most likely outpoint him, Kamegai is going to keep coming with relentless aggression to try and wear his opponents down late in fights. He almost succeeded tonight as he had Gomez in trouble in the 8th, but Kamegai did not throw enough effective punches to stop Gomez in that 8th round.
The boxing world will always appreciate Kamegai because you know when Kamegai is fighting you are going to get your money's worth. I cannot wait to see the relentless punching bag that is Yoshihiro Kamegai fight again.
As for Alfonso Gomez, he had a moving punching bag in there with him so he took advantage of the atrocious defense that Kamegai brought to the table and put enough rounds away early to cruise to a unanimous decision victory. Any fighter can look good against Yoshihiro Kamegai so I would like to see Gomez step up and fight better fighters at 154 to see what goods Gomez is really working with.
Alfonso Gomez and Yoshihiro Kamegai is just another great example of why the brutal, yet beautiful sport of boxing will never die. This fight will definitely be in the mix for 2015 Fight of the Year!
The 3 Week Diet!  This is an extreme rapid weight loss program that can help you lose pure body fat in just 3 weeks!
For more boxing news and articles continue to visit www.potshotboxing.com. If you like this post and other's from Potshot Boxing, feel free to subscribe to this boxing website by entering your email address into the floating email form provided on this post! Potshot Boxing – "Boxing news and article bites for all walks of life."