Here is Potshot Boxing's (PSB) Prediction for the upcoming Catch Weight (144 lbs.) Welterweight fight between Adrien Broner and Shawn Porter.
On June 20, 2015, NBC will showcase another Premier Boxing Champions (PBC) Series that will feature Adrien "The Problem" Broner.  His opponent this time will not be an opponent who was a statue in his last fight in John "The Gladiator" Molina, Jr.  The opponent that he will be facing, however, is an opponent who loves to pressure and pull the trigger as much as possible.  That opponent is Shawn "Showtime" Porter.
For boxing tickets to the latest fights get them here!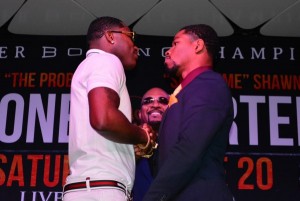 In Broner's last fight, he fought a fighter who shocked me because Molina is a fighter who loves to pressure and bang, and he simply looked like a statue against Broner.  Shawn Porter will be in Broner's face the entire night on Saturday, June 20, so the question simply boils down to once again whether or not Broner can deal with Porter's pressure.
Porter can be countered with clean punching if Broner boxes well, but Porter can also be Broner's worst nightmare if he allows Porter to walk through the boxing that Broner will bring to him on Saturday night.
So who wins?
Well, Broner should win this fight if he goes out and control the pace with good boxing while taking advantage of Porter's explosive pressure with counter punching.  The question is will he do it?  Porter has a huge chance to win this fight with effective aggression.  If he outworks Broner and land some significant power shots in the process, then I feel he can beat Broner.
This is going to be a great fight because Broner is going to have to prove to the boxing world once again that he can deal with good old fashion pressure.  I expect Shawn Porter to be relentless so will Broner wilt underneath the pressure?  I do not think so this time out.
Prediction: Adrien Broner by Unanimous Decision.
Want to learn how to make your body a 24-hour fat-burning machine?  Check out The Fat Burning Kitchen System!
For more boxing news and articles continue to visit www.potshotboxing.com. If you like this post and other's from Potshot Boxing, feel free to subscribe to this boxing website by entering your email address into the floating email form provided on this post! Potshot Boxing – "Boxing news and article bites for all walks of life."