Check out Potshot Boxing's (PSB) Prediction for the upcoming fight between Adrien Broner and Marcos Maidana.  The trash talking stops here!!
The Alamodome in San Antonio, Texas will be treated to a great boxing showcase when Adrien "The Problem" Broner, (27-0-0, 22 KO's) and Marcos "El Chino" Maidana, (34-3-0, 31 KO's.) collide in the ring on December 14, 2013.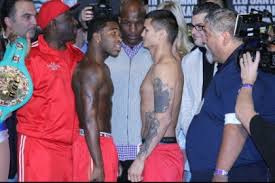 Photo Credit: boxingnews24.com 
I expect for Maidana to start off strong and try to pressure Broner as much as he can, but the problem with that is Broner is a great counterpuncher and I expect for Broner to take advantage of Maidana's aggression by keeping the fight in the middle of the ring and allow Maidana to bring to fight to him so that he can make Maidana pay for his pressure.
Maidana can win the fight if he can outwork Broner, as Broner's last opponent, Paulie Malignaggi had some success in stepping up the work rate and actually winning on one of the judges scorecards in that fight as a result so Maidana does have a chance in this fight against Broner, but I just think Adrien Broner is ready to become one of the top pound for pound fighters in the sport as this fight against Maidana will be seen as a legit boxing opponent for Broner by the boxing world and boxing critics, thus, should propel him into a superstar in the sport after this fight.
At the end of the day, Maidana is simply tailored-made for Broner's elusive-aggressive boxing style and I expect for Broner to win big in this fight given that Maidana is going to be in Broner's punching range for how ever long this fight lasts.
Prediction: Broner by Technical Knockout
For more boxing news and articles continue to visit www.potshotboxing.com. If you like this post and other's from Potshot Boxing, feel free to spread the word to your favorite social media channels with your friends and family!! Potshot Boxing – "Boxing news and article bites for all walks of life."