Here is Potshot Boxing's (PSB) Prediction for the upcoming Junior Welterweight fight between Adrien Broner and John Molina, Jr.
On March 7, 2015, NBC will premier their Premier Boxing Champions Series.  Keith "One Time" Thurman and "The Ghost" Robert Guerrero will headline this premier boxing event, but before the boxing world witness the potential slugfest main event, the co-feature will showcase Adrien "The Problem" Broner vs. John "The Gladiator" Molina, Jr.
Body Armor Super Drinks! These drinks provides superior nutrition, superior hydration, and superior taste.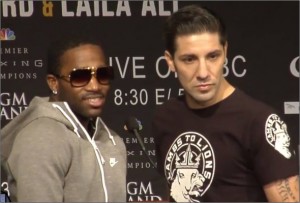 Broner will look to put his flashiness back on the map when he will squares off against the fading, but dangerous John Molina, Jr.  This will be a test fight for Molina because he took a great deal of punishment against Lucas Matthysse back in April of 2014, and in his last fight against Humberto Soto back in September of 2014.
Broner had a pretty good bounce back year in 2014, and pressure reared its ugly head again on Broner in his last fight against Emmanuel Taylor, but Broner rose to the occasion and showed the boxing world that he can handle pressure a little bit better now, then when he faced Marcos Maidana.
Well pressure will be in front of Broner again on March 7, 2015 as John Molina, Jr. only knows one way to fight and that is straightforward which should make this a tailor-made fight for Broner, but it will depend on which Adrien Broner shows up to the party.  Will the Broner that can deal with pressure show up, or will the Broner who cannot.
If Broner crumbles to the pressure of a fading fighter like Molina, then I expect for him to have a tough night, but if Broner shows the boxing world once again in this fight that he can handle effective pressure, then I expect for Broner to have an easy night.
Molina is one tough cookie so I do not believe that Broner will knock him out, but if Broner can handle that straightforwardness of Molina, then Broner should be able to showboat for the MGM crowd and cause Molina to suffer yet another brutal beating by a good fighter.
Prediction: Adrien Broner by Unanimous Decision.
 Check out all things that are Nike.  Shoes, shirts, accessories, etc.
For more boxing news and articles continue to visit www.potshotboxing.com. If you like this post and other's from Potshot Boxing, feel free to subscribe to this boxing website by entering your email address into the floating email form provided on this post! Potshot Boxing – "Boxing news and article bites for all walks of life."