Here is Potshot Boxing's Prediction for the upcoming junior welterweight fight between Adrien "The Problem" Broner and Emmanuel Taylor!!
Check out this awesome Sylvester Stallone Boxing Carl Weathers Rocky Poster!!

Adrien "The Problem" Broner will look to keep his ship sailing forward when he steps into the ring in front of his Cincinnati, Ohio home crowd at the U.S. Bank Arena on Saturday night.  His opponent is Emmanuel Taylor.  Taylor is known around the boxing world as a good boxer with quick hand speed that could give Broner some problems in this fight if Broner is not careful.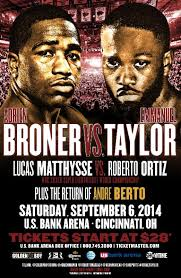 Photo Credit: www.urbanfighterscommunity.com
Broner is coming off a good performance in his last fight against Carlos Molina back in May of this year; while Taylor is coming off of a good performance of his own as he used his good boxing and speed to upset Karim Mayfield back in July of this year.
This should be a really good fight.  If anything it will surely be an entertaining fight given that we do not know what kind of antics Broner will try to pull off in the ring this Saturday night, especially with Broner being at home so I am sure he wants to leave a memorable impression on his beloved Cincinnati boxing crowd.
In Broner's fight with Marcos Maidana, Maidana simply used effective pressure to beat Adrien Broner.  Maidana's work on Broner wasn't pretty at all, but his tactics was effective enough to disrupt Broner's rhythm and caused Broner to get off track.  In order for Taylor to pull off another big upset on Saturday night, he is going to have to use pressure as well to try and frustrate the boxer-puncher Broner and I expect for Taylor to do just that in this fight.
Check out this awesome Sylvester Stallone Boxing Carl Weathers Rocky Poster!!

Remember, one thing about Broner is that his work rate is usually low so Taylor should try to outwork him in this fight.
Though Taylor does have good hand speed, I am not sure if he can stand and box with Broner because if he does, that will give Broner a chance to set his feet and land some vicious power punches on Taylor so I think Taylor should use his good boxing skills, but be more aggressive to throw off Broner's rhythm.
Taylor is a legitimate opponent for Broner, and the right opponent for Broner at this moment.  Taylor has just enough good boxing skills to give Broner some validation that he is back on top of his game if he beats Taylor on Saturday night and I feel that Broner will not fall into any unforeseen traps in this fight with Taylor.
Taylor has a lot of boxing gifts, but I feel that Broner will overcome them.
Prediction: Adrien Broner by Unanimous decision
Check out this awesome Sylvester Stallone Boxing Carl Weathers Rocky Poster!!

For more boxing news and articles continue to visit www.potshotboxing.com. If you like this post and other's from Potshot Boxing, feel free to spread the word to your favorite social media channels with your friends and family!! Potshot Boxing – "Boxing news and article bites for all walks of life."