Adrien Broner put on a sensational performance against Ashley Theophane at the DC Armory in Washington, DC.  Broner destroyed Theophane's body and ripped him with combinations and uppercuts en route to a 9th round TKO victory.  Broner was awarded the 9th round TKO victory, but he was stripped of his WBA junior welterweight title because he came into the fight .4 lbs. over the 140-pound limit.
Ashley Theophane was the only fighter that could have walked away with the WBA welterweight title, but since he got stopped by Broner, the WBA junior welterweight title is now vacant.  Now let's get into the meat and potatoes of this post.
Check out this Limited Edition "The Rubber Match: Pacquiao vs. Bradley" T-Shirt!  NOT SOLD IN STORES!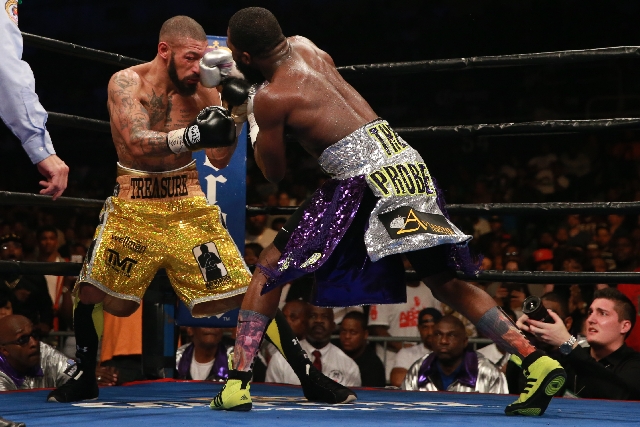 Again, sensational performance by Adrien Broner as he broke down one of Floyd Mayweather, Jr.'s fighters in Ashley Theophane, but the real fireworks came after the fight.  Most of the boxing world already know by now the transgressions that Broner is dealing with outside of the ring, getting stripped of his WBA junior welterweight title; the assault and robbery charges in Cincinnati, Ohio, etc.
Well another thing that happened to Broner leading up to his fight with Theophane was how his idol Floyd Mayweather made some derogatory remarks about him during a recent interview.  Broner seemed hurt by Mayweather's comments and expressed his feelings in a YouTube video that has gone viral on the internet.
After the fight, Broner continued to express his disdain for Floyd Mayweather, Jr. during the post-fight interview as he reiterated the fact of how Mayweather talked bad about him in an interview and how he did not like it.  Broner went on to say that he is a man that learn stuff from physical activity so he called out Floyd Mayweather, Jr. to a fight.  Broner said he doesn't care if it is at a sparring session or straight up fighting.
So in a nutshell, Broner put on a sensational fight and a sensational post-fight interview as he was intense!  He basically called Mayweather out of retirement to fight him.  Will this fight happen?  Check out Potshot Boxing's (PSB) latest post and vote.

Loading ...
Throwdown Fantasy! Fantasy Boxing for real cash! Get FREE points when you sign up! Sign up here.
For more boxing news and articles continue to visit www.potshotboxing.com. If you like this post and other's from Potshot Boxing, feel free to subscribe to this boxing website by entering your email address into the floating email form provided on this post! Potshot Boxing – "Boxing news and article bites for all walks of life."