Here are the boxing results from the fights that took place on the Premier Boxing Champions card on Saturday, March 7, 2015!
Premier Boxing Champions debuted its boxing series on NBC, and in my opinion, the atmosphere had a Sunday Night Football feel to it.  Adrien Broner faced off against John Molina, Jr. in the first main event, and Keith Thurman faced Robert Guerrero in the second main event.
Do you play Fantasy Sports? FanDuel has over 25,000 one-week leagues to join right now! Register today!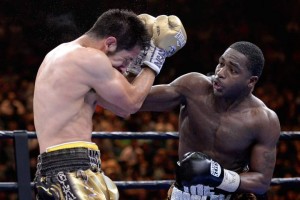 Broner vs. Molina
Adrien Broner did not have to do much against John Molina, Jr. because Molina simply stood in front of Broner the entire night and threw nothing.  All Molina tried to do was land one big right hand shot on Broner.  Due to Molina's shocking inactivity in the ring, Broner feasted on Molina's body as he proceeded to land vicious shots to the body, huge uppercuts, and accurate combinations that kept Molina fighting cautiously.
Molina only had success in the 3rd round when he applied pressure on Broner against the ropes, but other than that, it was all Adrien "The Problem" Broner!  Molina's corner try to urge him to pick up the pace and fight, but Molina held back for whatever reason. Adrien Broner coasted in the final round of this fight to the chagrin of the MGM Grand boxing crowd.  Broner was awarded the easy 12th round unanimous decision victory because Molina simply did not give Broner a fight.
After the fight, Molina claimed that Broner did not stand and fight him, but how could he?  Molina was literally a statue in the ring.  Adrien Broner did not gain too many fans for this fight, but I still believe that Adrien Broner will be a force in boxing in the future.
Throwdown Fantasy Boxing! Draft fighters, check your scores, and win! Sign up today!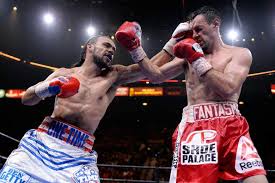 Thurman vs. Guerrero
This fight did not disappoint as Keith Thurman started out the fight by going right after Robert Guerrero.  Guerrero did not back down though, but he did try to sit back and box in the beginning stages of this fight.
As the fight went on, Thurman continued to throw every punch at Guerrero with bad intentions.  Guerrero would try land body shots on Thurman and mix it up when the two fighters were on the inside.
Thurman suffered an unintentional head butt in the 4th which almost put this fight in jeopardy.  I give Thurman's corner a lot of credit for keeping the swelling down on Thurman's head because the boxing world would have gotten robbed of a great fight that Thurman vs. Guerrero turned out to be.
The fisticuffs continued to land for Thurman as he started to heat up.  In the 9th round, Thurman would land a big right uppercut that sent Guerrero to the canvas.  Guerrero would survive the 9th and put on a sensational rally of his own in the final 2 rounds of this fight.  It seemed as though Thurman may have punched himself out in rounds 9 and 10 so when the 11th round came around, Guerrero had his chances to try and knock out Thurman.
Thurman, however, would wisely box Thurman down the stretch and the MGM Grand let him hear it with a serenade of boos!  Guerrero would bravely stalked Thurman in the final round in hopes of scoring a late knock out, but Thurman was too crafty and held on down the stretch.  The fight would end with the crowd screaming Guerrero's name because of his warrior mentality.
This fight would go to the judges' scorecards and Keith "One Time" Thurman would be awarded the 12th round unanimous decision victory.
Mares vs. Reyes
In the co-feature Abner Mares won a 10th round unanimous decision victory over Arturo Santos Reyes.
Conclusion
I believe the Premier Boxing Series got off to a great start.  The Broner/Molina fight was a little disappointing, but the Thurman/Guerrero fight had everything a boxing fan wanted to see in a boxing match.
It was great to see regular television get a taste of boxing for old time sake.    Hopefully this trend will last for years to come because it will get novice boxing fans and people across the U.S. who do not watch boxing, more interested in boxing.
Cannot wait for the next installment of the Premier Boxing Champions series!
Do you play Fantasy Sports? FanDuel has over 25,000 one-week leagues to join right now! Register today!
For more boxing news and articles continue to visit www.potshotboxing.com. If you like this post and other's from Potshot Boxing, feel free to subscribe to this boxing website by entering your email address into the floating email form provided on this post! Potshot Boxing – "Boxing news and article bites for all walks of life."