Here is Potshot Boxing's Prediction for the upcoming WBC light heavyweight title fight between Adonis Stevenson and Tony Bellew!!
Struggling with debt? Get help with a complimentary Visa Gift Card!
Adonis "Superman" Stevenson, (22-1-0, 19 KOs) will host another light heavyweight title fight in his country of Canada when he defends his WBC and RING light heavyweight titles against Englishmen Tony "The Bomber" Bellew, (20-1-1, 12 KOs.)  With a win, Stevenson will definitely be the frontrunner for this year's fighter of the year.
Any fight that Adonis Stevenson will be fighting in will be exciting for the boxing world because you never know when the end may come in his fights as Stevenson usually knocks out his opponents.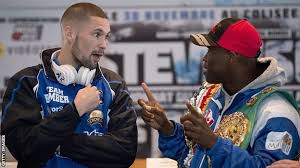 Photo Credit: bbc.co.uk
Tony Bellew is known for starting out fast and I expect for Bellew the start out fast by throwing a lot of punches to try and throw off the rhythm of the blossoming Stevenson.
I expect for Adonis Stevenson to start off using his jab and trying to land something big on the anxious Bellew in hopes of ending the fight early for his beloved Canadian crowd.  If an early knockout does not work, then I expect for Stevenson to use his effective aggressiveness to box Bellew by continuing to use his jab and focus more on his body in an attempt to break down Bellew as Bellew is known to start off fast, but wilt beneath effective pressure as the later rounds approach.
So this fight will boil down to whether or not Bellew can withstand the fireworks that Stevenson will bring to him if the fight goes past 6 rounds.  I believe that Bellew has the skills to give Stevenson a little bit of trouble, but in the end, I expect for Stevenson to dominant the middle and second half of this fight en route to a hard fought win and should cement his status as this year's fighter of the year.
Prediction: Stevenson by unanimous decision
Don't lose your digital life! Protect your important computer files today!
For more boxing news and articles continue to visit www.potshotboxing.com. If you like this post and other's from Potshot Boxing, feel free to spread the word to your favorite social media channels with your friends and family!! Potshot Boxing – "Boxing news and article bites for all walks of life."