Here is Potshot Boxing's (PSB) prediction for the upcoming WBC light-heavyweight fight between Adonis Stevenson and Sakio Bika.
The Premier Boxing Champions (PBC) Series will be showcasing yet another good fight on regular television (CBS) as WBC light heavyweight champ Adonis Stevenson will look to take another step towards a possible showdown against the IBF, WBO, and WBA (Super) light-heavyweight champion Sergey "Krusher" Kovalev.
Sakio "The Scorpion" Bika will be moving up from 168 to light-heavyweight to challenge Stevenson for the WBC light-heavyweight crown.
 ProMuscle Fit Provides The Necessary Amino Acids To Repair, Build, And Strengthen Your Muscles! Try it for FREE today!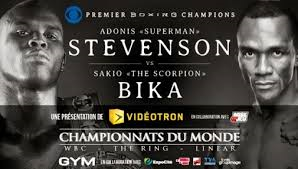 Stevenson's quest to meet Kovalev to unify the light-heavyweight titles will not come easy as I expect for Bika to make it a tough encounter for Stevenson. Bika is well known for ugly fights as his ugly boxing style will make any top fighter in the sport look bad.
I expect for Bika to get as gully as possible by trying to smother Stevenson's offense as much as possible. Stevenson, however, should use his jab in this fight to keep Bika's rough style tactics at bay. This should be an exciting fight because Bika will be there for Stevenson to hit and Bika's boxing ugliness will give him opportunities in the fight to land some good shots on Stevenson as well.
If Stevenson can take control of this fight early and keep Bika from using his gully tactics, then I expect for Stevenson to be successful en route to a possible showdown with Sergey Kovalev. However, if Bika is able to use his rough, gully style to control the fight, then Stevenson is going to have to crawl, kick, and scratch his way to a showdown with Kovalev.
So who wins? Will it be Stevenson's boxing or Bika's gulliness?
I believe that in the end, Bika will give Stevenson some trouble as his style always give fighters trouble, but Stevenson will rise to the occasion and get past Bika en route to giving the boxing world what we want and that is another Mayweather/Pacquiao mega-showdown kind of extravaganza for 2015 against Sergey "Krusher" Kovalev.
Prediction: Adonis "Superman" Stevenson by unanimous decision
A Diet Plan That Is Unique As You Are! Find out more!
For more boxing news and articles continue to visit www.potshotboxing.com. If you like this post and other's from Potshot Boxing, feel free to spread the word to your favorite social media channels with your friends and family!! Potshot Boxing – "Boxing news and article bites for all walks of life."