This is Potshot Boxing's Prediction of the upcoming WBC light-heavyweight title fight tonight between Adonis Stevenson and Andrzej Fonfara!!
Adonis "Superman" Stevenson, (23-1-0, 20 KO's) will head into The Bell Center on Saturday night looking to win in impressive fashion once again as this time he will be putting up his WBC light-heavyweight crown against Polish challenger Andrzej Fonfara, (25-2-0, 1 no contest, 15 KO's); a fighter who is 10 years younger than Stevenson and ready to give Stevenson a good fight tonight.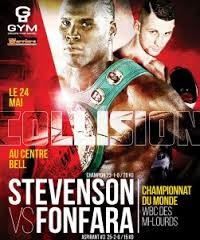 Photo Credit: queensberry-rules.com
This should be a very entertaining fight as both of these fighters have been on knockout streaks as of late; Fonfara with a 3 fight knockout streak; and Stevenson with a 10 fight knockout streak.
I expect for Stevenson to come out and try to blow away Fonfara from the opening bell by using his impressive jab and then following up with hard power punches to the body of Fonfara.
I expect for Fonfara to start off with caution and try to box with Stevenson for the first stages of the fight in hopes of the fight getting carried into the late rounds where Fonfara can try to exploit knock out opportunities over a fatiguing Stevenson.
This fight will not go the distance tonight as both of these fighters will try and take the other one's head off!!  This fight tonight should be dubbed "Someone's KO streak will go!!"
Stevenson has what it takes to blow away Fonfara by knockout; and the young Fonfara has what it takes to pull off a stunning upset knock out victory over the champion.  So who wins?
This simply boils down to the caliber of fighters Stevenson and Fonfara have been fighting lately; and Math.  If I have to pick a fighter tonight based on the credentials I just mentioned, then Stevenson will get the nod as Stevenson has been fighting the better caliber of fighters as of late; and his knockout streak is 10, which is very impressive.  I expect for Stevenson to win big tonight!!
Prediction: Adonis Stevenson by Knockout